By Anna Leah Gonzales and Zorayda Tecson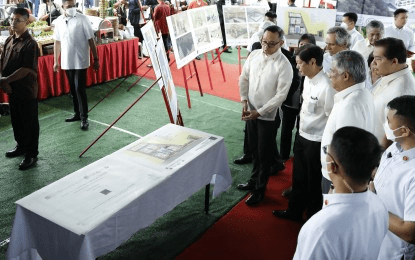 MANILA – President Ferdinand R. Marcos Jr. on Monday vowed that the government would ramp up efforts to bring quality healthcare to Filipinos.
Marcos assured that his administration is "determined" to bring quality healthcare services by establishing primary healthcare facilities and specialty centers nationwide.
"I will be reporting to the nation on the progress that we have made in establishing and opening new healthcare centers around the country but that is a product of our relentless push for universal health care, and we will not stop until every Filipino can say they have good access to quality health care," Marcos said in his speech during the inspection of the Clark Multi-Specialty Medical Center (CMSMC) in Clark, Pampanga.
The CMSMC, which will cater to those who have heart, kidney, cancer, and pediatric ailments, is a fulfillment of one of the President's promises during his inaugural State of the Nation Address.
Marcos said it is an important component of the administration's health facility enhancement program (HFEP).
The HFEP, he said, aims to widen the access to quality healthcare services, especially to those from underserved communities.
"I cannot forget, and the reason that healthcare has been such an important part of this administration, not only because of the experience that we have had in the pandemic in the last two to three years, but also with the guiding understanding and idea that any person, no matter how successful they are in whatever field they have been, cannot enjoy that success if they do not also enjoy good health and that is why it is a fundamental part of the services that this government will bring to our people," he said.
Marcos said the government intends to establish more rural healthcare units, barangay centers, and "botika de barangays" (community pharmacies) to ensure that fundamental healthcare is readily available to Filipinos.
"It is not a privilege to have healthcare, it is a right and that is how we will approach this problem and that is how we will continue to make our healthcare system better for all Filipinos in whatever capacity that we are able to," Marcos said.
Meanwhile, Agnes Devanadera, president and chief executive officer of Clark Development Corporation, said the CMSMC will also boost government efforts to promote the country as a medical tourism destination.
"It will introduce a fresh perspective to our country's healthcare sector by attracting more visitors from diverse regions, both within the Philippines and outside the country. With this, we enhance our standing as a premier destination for exceptional medical services at par with renowned healthcare destinations, hopefully like Singapore," she said in her opening remarks during the event.
Aside from boosting medical tourism, Devanadera said the medical center will serve as a beacon of hope and healing to the people with its modern facilities, a testament to the Marcos administration's strong commitment to improving the nation's healthcare services.
"With remarkable foresight and unwavering dedication, the government has demonstrated a steadfast commitment to advancing our healthcare industry," Devanadera said.
Governor Dennis Pineda thanked the President for putting up the multi-specialty medical center as it is a big help not only to the residents in Pampanga but also to neighboring Central and Northern Luzon.
"Hindi na po natin kailangan pumunta ng Maynila para magpagamot sa Philippine Heart Center at maging sa kidney and lung centers. Dito sa Pampanga ay mabibigyan na tayo ng lunas (There is no need for us to go to Manila to seek treatment from the Philippine Heart Center and even kidney and lung centers. Here, in Pampanga, we will be treated)," Pineda said. (PNA)