By Ruth Abbey Gita-Carlos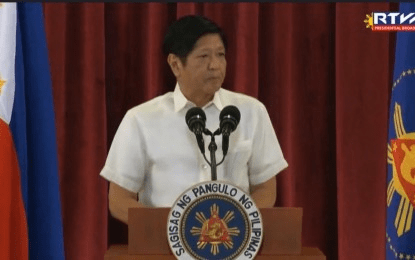 MANILA — President Ferdinand R. Marcos Jr. vowed Thursday to advance the Philippines' interest in the fields of energy, food, and trade during his participation in the first Association of Southeast Asian Nations-Gulf Cooperation Council (ASEAN-GCC) Summit in Riyadh, Saudi Arabia.
In his pre-departure speech delivered at Villamor Air Base in Pasay City, Marcos said the summit is the proper venue to promote the Philippines' priorities, considering that ASEAN and the GCC "are very vibrant regions in terms of economic development for the globe."
"It gives us, the Philippines, a unique opportunity to advance our priorities in ASEAN under the ASEAN-GCC framework, while forging closer cooperation between the two dynamic regional organization," Marcos said.
"This summit will serve as an important platform for the Philippines to highlight the need for cooperation in energy and food security, logistics, supply chains, digital [transformation], the free flow of goods, people, and services, as well as the enhancement and protection of the rights, of course, of our overseas workers," he added.
Marcos said he would make sure that he will have a constructive engagement with ASEAN and GCC leaders, in an effort to uphold the country's national interest and the Filipinos' well-being.
He said he would also emphasize the importance of a "rules-based international order" to maintain peace, security, and stability in the regions.
"I will meet with ASEAN and Gulf Cooperation Council leaders to discuss the challenges of major geopolitical developments, and the comprehensive and concrete enhancement of our security, our economic progress, and socio-cultural collaboration after more than thirty years of ASEAN-GCC relations," he said.
Marcos said he would also meet with the Filipino community in Riyadh on the sidelines of the ASEAN-GCC Summit to personally thank them for their "invaluable contributions" to the country.
He added that he would share with them the important developments in the Philippines.
GCC nations are composed of Saudi Arabia, Oman, Qatar, Bahrain, Kuwait, and the United Arab Emirates. These countries serve as home to an estimated 2.2 million Filipinos working in critical fields.
The ASEAN-GCC Summit is primarily about the endorsement of the framework of cooperation between the ASEAN and the GCC.
This is the first summit that aims to intensify and optimize the ties between the two regional organizations established in 1990. (PNA)