By Azer Parrocha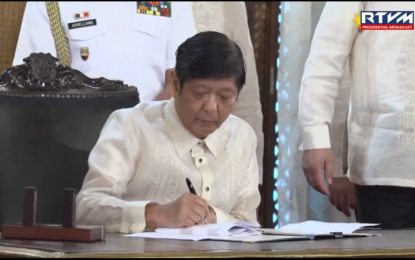 MANILA – President Ferdinand R. Marcos Jr. has signed an executive order (EO) approving and adopting the Philippine Development Plan (PDP) for the period 2023-2028, an economic recovery roadmap that aims to help the country achieve "economic and social transformation" amid the impact of rising inflation and Covid-19.
Under EO No. 14, signed by Marcos on Jan. 27, the PDP is the second medium-term plan anchored on "AmBisyon Natin 2040," seeking to "bring back the country to a high-growth trajectory and more importantly, enable economic and social transformation for a prosperous, inclusive and resilient society."
AmBisyon Natin 2040 serves as a guide for development planning from 2016-2040 to enable Filipinos to attain a "matatag, maginhawa at panatag na buhay (stable, comfortable and secure life)."
The PDP is also anchored on Marcos' 8-Point Socioeconomic Agenda, which seeks to "reinvigorate job creation and accelerate poverty reduction while addressing the issues brought by the Covid-19 pandemic."
The National Economic and Development Authority (NEDA) Board, which is headed by the President, approved the PDP 2023-2028 on Dec. 16 last year following a series of Cabinet-level and technical inter-agency discussions and stakeholder consultations.
"We approved the Philippine Development Plan for 2023 to 2028 and this sets out the framework of the development plan for the Philippines and we have included all of the priority areas. This will facilitate the coordination and the alignment of all departments and all agencies in government to a single plan so that we are all working in the same direction," Marcos said in his message announcing the approval of the PDP on Dec. 16 last year.
EO No. 14 directs all national government agencies, government-owned or -controlled corporations (GOCCs), government financial institutions (GFIs), other national government offices and instrumentalities, government corporate entities (GCEs), state universities and colleges (SUCs) and local government units (LGUs) to adopt and disseminate the PDP 2023-2028.
They are also directed to align their budgetary and department/corporate programs with the strategies and activities identified in the PDP 2023-2028.
The formulation of the PDP 2023-2028 must be completed by the first quarter of 2023 and updated annually or when deemed necessary by the NEDA.
The Department of Budget and Management must provide the necessary budgetary support for the implementation, monitoring, assessment and implementation of the PDP and Public Investment Program (PIP) 2023-2028 while appropriations for its continued implementation must be prepared in accordance with regular government budget procedures and must be included in the budget of concerned departments, agencies and instrumentalities of the national government under the annual General Appropriations Act.
Earlier, members of the government's economic team expressed confidence that the Marcos administration will succeed in bringing down the poverty rate to 9 percent by 2028, which is among the goals of the PDP 2023-2028.
Socioeconomic Planning Secretary Arsenio Balisacan said the 9 percent goal by 2028 is achievable through the government's three-pronged approach, which involves bringing growth to a higher level, enhancing the quality of growth through the creation of quality jobs, and improving the social protection system. (PNA)