By Ruth Abbey Gita-Carlos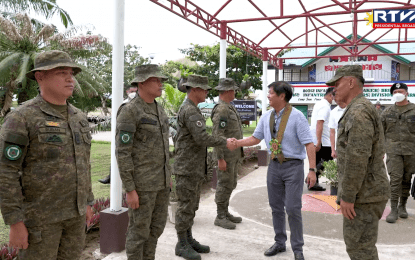 MANILA – President Ferdinand R. Marcos Jr. has expressed optimism that Northern Samar would be declared insurgency-free by the end of 2023.
During his visit to Camp Sumoroy in Catarman, Northern Samar on Friday, Marcos lauded the Philippine Army's 803rd Infantry Brigade (IBde) for their efforts to maintain peace and order in the province and expressed hope that the troops would be relentless in the drive to dismantle the communist rebel groups before the yearend.
"I just received the briefing on the success rate sa ating pagbuwag, sa ating pag-dismantle ng mga front, pag-weaken ng mga ibang front (of dismantling the fronts). And I was also given a very encouraging deadline that masabi natin (we could say) that we will have dismantled all of the CTG (communist terrorist group) fronts by the end of the year and that is the result of your good work," he said.
"From the progress being made in Northern Samar, we are looking forward to declaring that province clear of CTGs by the end of the year."
Marcos said he could not wait to visit Northern Samar again to declare that it is already free from all forms of insurgencies.
"And that will be a big, big blow to the enemy forces because they have always felt that Northern Samar is a place that they feel safe in," he added.
The 803rd IBde has been instrumental in degrading the insurgents' strength in the region, with the surrender of more than 6,200 of its sympathizers and personalities, and the dismantling of two guerilla fronts in Northern Samar.
Despite the brigade's accomplishments, Marcos reminded the soldiers to stay alert and vigilant.
"You are still now in Northern Samar, on the front line. Kaya't (So), do not let your guard down. Continue to do what you have been doing dahil (because), as I said, it has been successful, it has been effective and we can see that from the weakening of the enemy forces," he said.
Marcos also urged the brigade to step up their counterinsurgency efforts to convince the rebels to return to the fold of the law.
He reassured that rebels who wish to reintegrate into society would get the government's full support and assistance.
"So, that is the plan. This is how we are going to move forward but this is all founded. It is all based on the continuing good work that you put in every day," Marcos said.
The President also urged the troops to continue their close coordination with the community to ensure the success of the anti-insurgency campaign.
He renewed his vow to provide the government troops with all the tools, equipment, and training that they need as part of the administration's efforts to modernize the Armed Forces of the Philippines not only for internal security operations but also for countering possible external threats.
"We have seen…. the increase in the firearms that have been neutralized and also the personalities that have been neutralized. Let us continue that trend," Marcos said. (PNA)