By Ruth Abbey Gita-Carlos August 17, 2023, 4:28 pm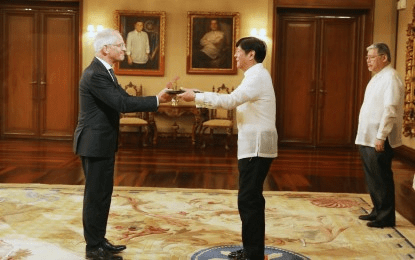 MANILA – President Ferdinand R. Marcos Jr. on Thursday expressed his commitment to elevate the Philippines' bilateral ties with Germany and Iran.
Marcos made the vow during the presentation of credentials of Ambassadors Andreas Michael Pfaffernoschke (Germany) and Yousef Esmaeil Zadeh (Iran) in separate ceremonies held at Malacañan Palace in Manila.
Short video clips of the ceremonial presentation of credentials of the two newly-designated ambassadors to the Philippines were uploaded on state-run Radio Television Malacañang (RTVM).
In a statement posted on RTVM's official Facebook page, Marcos said the possibilities and potentials of further strengthening relations between the Philippines and Germany "show a great deal of promise."
"Noting the changes the world sees today, he underscores the importance of reinvigorating these ties not only in terms of trade, diplomacy and politics, but in people-to-people relations as well," the statement read.
The ambassador vowed to foster the Philippines-Germany relations in all aspects, particularly in the areas of trade, investment and economic cooperation.
He also vowed to support joint efforts in climate change adaptation and mitigation, as well as in maintaining international order based on the principles of the United Nations (UN) Charter.
The Philippines and Germany formally established diplomatic relations in 1954.
The two nations' bilateral cooperation developed into a broad-based partnership, ranging from joint projects in various areas, including climate, environment, biodiversity, disaster risk reduction, and the peace process in Mindanao.
Human rights, people-to-people exchanges and commitment to a rules-based order in the region also top Germany's policy in the Philippines.
Meantime, Marcos hoped that the Iran ambassador's tour of duty in the Philippines would be successful and would lead to the strengthening of long-standing relations between the two countries.
The Iranian envoy assured Marcos of his commitment to maintaining the friendly relationship and the shared vision for the future between Iran and the Philippines.
Diplomatic relations between the Philippines and Iran were established on Jan. 22, 1964. (PNA)