By Ruth Abbey Gita-Carlos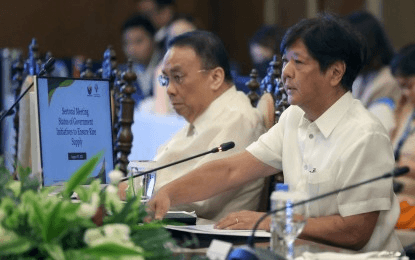 MANILA – President Ferdinand R. Marcos Jr. on Tuesday directed concerned government agencies to use available legal tools to make rice affordable for all Filipinos.
Marcos issued the directive during a meeting with concerned sectors at Malacañan Palace in Manila to discuss updates on government initiatives in ensuring rice supply and regulating its price, according to a statement posted on state-run Radio Television Malacañang's (RTVM) official Facebook page.
"The Chief Executive directs all concerned agencies to utilize the available legal tools in controlling the price of rice and make this affordable especially to poor households, as well as ensure other support mechanisms for farmers and traders alike should legal measures be invoked by the government in controlling the price of rice," the statement read.
Marcos said the price of rice is a cause for concern, despite recent outlook by the Department of Agriculture (DA) that there is still sufficient supply.
He said cases of hoarding, effects of tropical cyclones Egay and Falcon in severely affected areas and rice-deficit regions, and prices posed by intermediaries are several factors which may have caused the price hike.
The DA, currently headed by Marcos, earlier reported that retailers are selling rice at different prices, some at PHP38 to PHP40 per kilo as the cheapest while other varieties go for PHP50 per kilo.
During the sectoral meeting, Marcos instructed the Bureau of Customs (BOC) to coordinate with the DA to study possibilities of donating seized rice to the Department of Social Welfare and Development.
Malacañang Press briefer Daphne Oseña-Paez told Palace reporters that after the sectoral meeting, Marcos directed the BOC to continue the warehouse raids to address hoarding and illegal importation of rice.
BOC Commissioner Bienvenido Rubio, who joined the press briefing, said the agency is ramping up its efforts to go after illegal rice hoarders and importers, noting that the agency had inspected three warehouses in Balagtas, Bulacan.
Rubio said the 25,000 estimated sacks of rice found at Great Harvest Rice Mill Warehouse, 167,000 sacks at San Pedro Warehouse, and 10,000 sacks at FS Rice Mill Warehouse were imported from Vietnam, Cambodia and Thailand, with an initial estimated aggregate value of PHP505 million.
"The subject warehouses were sealed temporarily to secure the imported sacks of rice found therein, pending the completion of the inventory by the assigned examiners which will continue today, August 29," he said.
"The owners and operators of the warehouses were directed to submit proof of payment of duties and taxes due the subject imported sacks of rice within 15 days from the implementation of the LOA (letter of authority) or until September 8, 2023," Rubio added. (PNA)