By Anna Leah Gonzales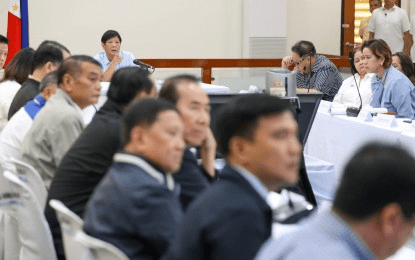 MANILA – President Ferdinand R. Marcos Jr. ordered on Monday the conduct of an extensive study on the proposed construction of an impounding system in Candaba, Pampanga as a long-term solution to the flooding problem in the province.
The establishment of a huge collection pool in Candaba was discussed during the president's meeting with Pampanga local officials to address massive flooding in Central Luzon.
Some local officials are opposing the planned construction, fearing its impact on people's livelihood, particularly to palay farmers.
The project was proposed by former public works and highways secretary Rogelio Singson in 2013 as a solution to flooding concerns in Central Luzon.
Local officials said the project could affect more than 9,000 residents in Candaba, adding that the DPWH made the proposal at that time without incorporating measures to be done for families that would be affected by the project.
Under Singson's proposal, the government will secure or buy around 200 hectares or 10 percent of the 2,000-hectare swamp land in Candaba to build a water-impounding area to prevent flooding in nearby and low-lying areas.
"Do not worry when it comes to the LGUs. Kayo naman ay hindi namin basta…sasagasaan na lang 'yung project. Hindi namin gagawin 'yun. (We won't just…just run through the project. We will not do that," Marcos said during the meeting.
"Unang-una, kayo mag-a-approve nito. Hindi naman ma-approve ito kung ayaw ninyo. Kayo mag-approve nito na kukuha ng 10 percent (land) para paglagyan ng impounding (First, you will be the one who will approve this. If you don't want this, this will not be approved. You will be ones who will approve if you let us secure that 10 percent (land) for impounding)," Marcos added.
Those who will be displaced by the proposed project will be relocated to other areas that are equally productive as their current holding, the president assured.
The construction of a huge collection pool is one of the solutions raised during the meeting.
As a short-term measure, the president also mentioned the conduct of dredging operations and elevating certain structures in San Simon, Pampanga, to ease heavy traffic in flooded areas.
"In the long-term… we really have to study what we are going to do in terms of [impounding]. Kailangan natin pag-aralan nang mabuti dahil kung wala tayong gagawin, paulit-ulit… kahit mag-dredge tayo. (We need to study carefully because if we don't do anything, this will occur again … even if we dredge.) So, that, I think, is the situation as we find it in the very short term, in the medium term, in the long term," Marcos said. (PNA)