By Ruth Abbey Gita-Carlos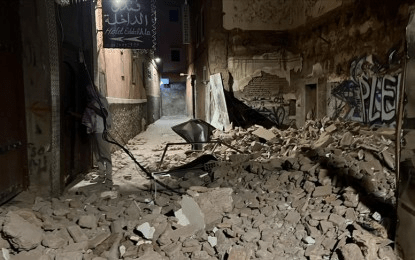 MANILA – President Ferdinand R. Marcos Jr. on Tuesday expressed his sympathy to the people of Morocco following a 6.8-magnitude earthquake that killed more than 2,000 people on Sept. 8.
"The Filipino people are deeply saddened to learn of the devastating 6.8-magnitude earthquake that has tragically claimed over 2,000 lives in Morocco," Marcos said in an X (formerly Twitter) post. "We stand in grief and solidarity with you, and our prayers go to the families affected by this tragedy."
The Philippines is ready to offer assistance and support to help Morocco in its swift recovery, Marcos said.
He hoped that the Moroccan people would stand united and remain strong in the wake of the deadly earthquake.
"We have faith in the strength and resilience of the Moroccan people to unite and rebuild in the face of such adversity," Marcos said.
A 6.8-magnitude earthquake hit Morocco on Sept. 8 at 11:11 p.m. local time (2211 GMT) at a depth of 18.5 km, said the United States Geological Survey. The epicenter of the earthquake was near the town of Ighil in Al Haouz Province, some 70 km southwest of Marrakech.
An updated report of the earthquake shows that 2,862 are dead and 2,562 injured as of 7 p.m. on Sept. 11, Morocco state news agency Agence Marocaine de Presse said.
No Filipinos were hurt or affected by the strong earthquake, Philippine Ambassador to Morocco Leslie Baja said Monday.
Morocco has not experienced a 6.8-magnitude earthquake since 2004 when a 6.3-magnitude rocked the port city of Al Hoceima, killing around 630 people.
Seismological experts have warned survivors against aftershocks which could last weeks or even months after the strong earthquake. (PNA)