By Ruth Abbey Gita-Carlos and Joyce Ann L. Rocamora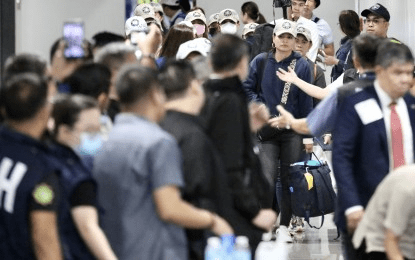 MANILA – Israel has promised to help Filipinos in Gaza Strip exit through the Rafah crossing point either by Friday or Saturday to find safer ground in Egypt, President Ferdinand R. Marcos Jr. said on Friday.
The commitment was made after Philippine Ambassador to Israel Pedro Laylo Jr. met with Israeli President Isaac Herzog on Thursday, Marcos said in a press conference at Malacañan Palace in Manila.
"So, may pangako sila sa atin na maipapalabas na ang mga Pinoy. Ang mga Pilipino, maipapalabas na (So, they have a promise to us that the Filipinos will be allowed to leave) by today or tomorrow. That is what they promised us. Saturday daw (They said it would be Saturday), at the latest," he said.
"So, that is the latest news that I received today, early this morning from our Secretary of the DFA. And sana naman matotoo na para mailabas na natin lahat ng gustong lumabas (I hope it will happen soon so we will be able to bring out those who want to exit) and bring them back home to safety," he added.
Marcos said the Philippine Embassy in Cairo is ready to assist Filipinos who will cross the Rafah border and eventually be repatriated.
He added that the Philippine government has also offered assistance to other Southeast Asian countries whose nationals are also trapped in Gaza Strip.
"I know many people are worried about our people, our Filipino nationals in Gaza, in Israel in the middle of the war. At saka dumating ang balita sa atin na 'yung mga nasa Gaza hindi pinapalabas pa sa Rafah crossing. And nagtataka ang iba bakit nga hindi (And we received news that those in Gaza are still not being allowed to exit through the Rafah crossing. And others are wondering why not). Well, it is unfortunately completely out of our hands. We have no control over this. It is between the Israelis and the Palestinians," Marcos said.
The Department of Foreign Affairs earlier said there are still 134 Filipinos in Gaza Strip, 115 of whom are still waiting for a signal to cross the border.
Marcos noted that there are still Filipinos, especially those married to Palestinians, who are undecided about whether to exit Gaza.
"There is also a complication because some of the Filipino nationals, mga babae na may napangasawa na na Palestinian. Hindi pinapalabas 'yung Palestinian (there are Filipino women who are married to Palestinians. Palestinians are not allowed to leave)," he said.
"So, many of them are undecided kung gusto nilang umalis o hindi dahil siyempre, ayaw naman nilang iwanan ang asawa nila, ayaw nilang iwanan 'yung kanilang anak (if they want to exit or not. They do not want to leave their spouses and children)," Marcos added.
Echoing the statement of Marcos, Israel Ambassador to the Philippines Ilan Fluss on Friday said his government is doing its best to help allow the remaining 115 Filipinos exit Gaza Strip exit as soon as possible.
In a virtual briefing, Fluss said the United Nations and Egypt are also involved in the movement of foreign passport holders who will cross the Rafah border into Egypt.
"The other day there was the first group that was able to leave and we still have to see how it works and how it will continue," he said.
"From our side, we'll do our best to facilitate the safe exit of the Filipinos and we will do our efforts that it will happen today or tomorrow," he added.
Two members of the Doctors Without Borders were the first Filipino nationals to exit Gaza when the Rafah border crossing partially opened on Nov. 1.
Marcos earlier said Israel President Isaac Herzog himself has made a commitment to help the trapped Filipinos evacuate from the strip.
Apart from the 115 Filipinos in Gaza awaiting signal to cross into Egypt, the Philippines is also focusing its efforts to find two other Filipinos who went missing in Israel after the Hamas assault.
The two are suspected to be among the more than 200 people kidnapped by the Hamas group from Israel into Gaza.
In a post on X on Friday, Herzog said he shared the Philippines' and other states' "deep sorrow and asked they convey to their people our deep pain and our concern for the hostages". (PNA)