By Ruth Abbey Gita-Carlos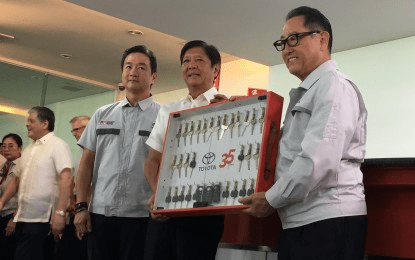 STA. ROSA, Laguna – President Ferdinand R. Marcos Jr. on Tuesday received 35 vehicle units donated by Toyota Motor Philippines (TMP) in a ceremonial turnover at the Toyota Special Economic Zone (TSEZ) at the City of Santa Rosa, this province.
The donation, in line with the commemoration of TMP's 35th anniversary, included 10 ambulance units and two Coasters (minibus) customized for the "Lab For All" medical program of the Office of the First Lady.
During the ceremonial turnover, Toyota Motor Corp. (TMC) chairperson Akio Toyoda handed the keys of the donated vehicles to Marcos.
In his speech, Marcos hailed TMP's contributions to the Philippines' economic development, saying the country is "very lucky" to have the carmaker as its partner.
Marcos said he looks forward to strengthened partnership with Toyota as his administration aims to transform the Philippine economy.
"We have always seen Toyota as being an important partner in everything, in our development in the Philippines, and now especially in these difficult times. These partnerships…, I am certain will benefit not only the Philippines but also our partners in Japan," he said.
TMP chairperson Alfred Ty acknowledged the local carmaker's collaboration with the Philippine government in revitalizing the local automotive manufacturing.
"Today's symbolic donation of 35 Toyota units represents the many memorable chapters in our history and reaffirms that our partnership with the government is, and will always be, a strong and vital part of our sustainable growth," Ty said.
"We request your continued support to the auto industry, not only for vehicle manufacturing but to the entire supply chain, especially our domestic parts suppliers. With more conducive government policies, Toyota Aisin Philippines and other local part-makers can expand and do so much more in our country to help generate more jobs for Filipinos," he added.
Marcos also toured the world-class facilities of the country's leading mobility company.
He checked the technologies and highly-skilled workforce that currently produce TMP's best-selling Vios and Innova models.
TMP was incorporated on Aug. 3, 1988 as a joint venture of TMC, GT Capital Holdings, Inc. and Mitsui & Co., Ltd.
One of the largest automotive companies in the country, TMP has the widest vehicle line-up of 24 Toyota models. It has over 70 dealers nationwide, including high-end Lexus Manila, Inc., for its sales distribution and service centers.
TMP's head office and manufacturing plant are located inside the 82-hectare TSEZ, which serves as home to a number of investors performing strategic roles in the manufacture and export of automotive products to the Association of Southeast Asian Nations, Japan and other parts of the world.
The marketing office of TMP is located in Makati City, while the newly inaugurated 32-hectare Batangas Vehicle Center streamlines vehicle handling prior to inter-island transport and ensures promised delivery time and quality for dealers and customers.
To date, TMP and the Toyota Group have cumulatively invested PHP73.7 billion since 2000, paid duties and taxes of PHP448 billion and exported USD18.76 billion worth of auto parts and components since 1997.
Toyota will also invest around PHP4.4 billion for the production of the Next Generation Tamaraw, a utility transport vehicle first introduced in the Philippines in 1976.
As of December 2022, TMP has a total of 3,742 personnel, with 1,846 of them on permanent status. (PNA)