By Ruth Abbey Gita-Carlos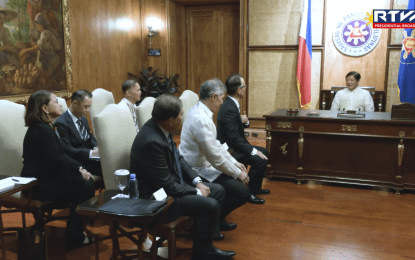 MANILA – President Ferdinand R. Marcos Jr. has welcomed the commitment of Japan-based Mitsubishi UFJ Financial Group, Inc. (MUFG) to assist his administration in the Philippines' transition from fossil fuel to renewable energy.
This was after MUFG chairperson Mike Kanetsugu, in a courtesy call at Malacañan Palace in Manila on Tuesday, assured Marcos of the company's support for the country's transition to renewable energy.
During the meeting, the President emphasized the importance of prioritizing renewable energy, considering the Philippines' vulnerability to the effects of climate change.
"We are also very conscious of our situation in the Philippines wherein we are very sensitive to climate change. It is very important that we play also a part to move the balance of renewables and fossil fuels more and more in favor of renewables," he said, as quoted by the Presidential Communications Office in a news release on Wednesday.
Kanetsugu acknowledged that energy transition is a very important agenda in the Philippines.
He also applauded the country's tremendous growth over the past 30 years in terms of energy and infrastructure transitions.
"Energy transition is a very, very important agenda I consider for this country. We are providing with financing, and we work for various transition projects that will contribute to successful transition of energy structure (in the Philippines)," Kanetsugu said.
Development Bank of the Philippines officials led by president and chief executive officer Michael de Jesus and senior vice president Ronaldo Tepora were also present during the courtesy visit.
Officials of the Security Bank Corp. led by interim chairperson and executive vice president Cirilo Noel and directors Juichi Umeno and Maria Cristina Tingson also attended the courtesy call.
The MUFG is a Japanese bank holding and financing service company that acquired a 20 percent stake in Security Bank for PHP36.9 billion in 2016.
In its effort to support investment in the Philippines, the MUFG partnered with Security Bank and signed a memorandum of understanding with the Board of Investments in 2018 to connect local Filipino businesses to Japanese investors through business matching activities.
The MUFG has been providing bank guarantee requirements to the Department of Transportation and the Department of Public Works and Highways in support of its infrastructure projects, such as the North-South Commuter Railway Project (NSCRP) and the Metro Manila Subway Project (MMSP).
The two infrastructure projects are funded by the Japan International Cooperation Agency.
It is also working on trade transactions of government agencies, such as the construction of the 54.6-km. Blumentritt-Calamba section of the NSCRP and the 36-km. MMSP.
The MUFG also launched the Interbank Fund Management Service in 2017, which allowed customers to send cost-free remittances, and donated PHP44 million to the Association of the Filipino Students in Japan, along with the Security Bank to support the education of the students affected by the coronavirus disease 2019 pandemic. (PNA)