By Ruth Abbey Gita-Carlos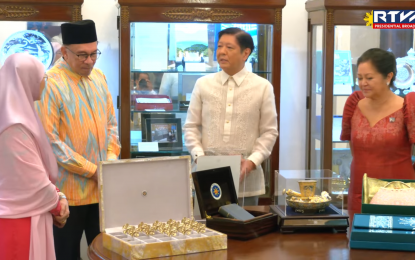 MANILA – President Ferdinand R. Marcos Jr. on Wednesday gifted Malaysian Prime Minister Anwar Ibrahim with a copy of national hero Dr. Jose Rizal's classic novel, "Noli Me Tangere."
Marcos gave the book to Anwar after their bilateral meeting at Malacañan Palace in Manila, according to a Facebook post by Radio Television Malacañang (RTVM) on Thursday.
Based on a video uploaded by RTVM, Marcos and Anwar exchanged gifts at the President's Hall of Malacañan during their tête-à-tête.
"The President hands over one of Dr. Jose Rizal's greatest literary works, Noli Me Tangere (Tercera Edition, 1909), to Prime Minister Anwar Ibrahim," RTVM said.
Noli Me Tangere follows the story of Crisostomo Ibarra, an idealistic young man who studied in Europe and returned to the Philippines in an attempt to bring progress to his nation.
Anwar, RTVM said, considers Dr. Jose Rizal as a "precursor to Asian renaissance" and "deeply appreciates" Marcos' gesture in giving a "very invaluable" present.
Meantime, Anwar's spouse, Dr. Wan Azizah binti Wan Ismail, received a Waling-Waling brass card holder.
The card holder is a decorative ornament that combines the beauty of the Waling-Waling with the durability and attractiveness of brass crafted by Cebuano artisans, according to the RTVM.
Prior to the exchange of gifts, Marcos and Anwar reaffirmed the Philippines and Malaysia's long-standing ties following their bilateral meeting.
Marcos also hosted an official dinner for Anwar at the Palace's Ceremonial Hall.
In his toast remarks during the official dinner, Marcos said he was heartened by Anwar's visit "not only because I am happy to see a friend, whom we have come to admire greatly."
"I view the Prime Minister's visit as a rekindling of an old friendship and old bond that took millennia to make, between neighbors and ASEAN (Association of Southeast Asian Nations) founding members, whose people have interacted and traded for centuries before they even knew the concept of countries," Marcos said.
"More importantly, I view this visit as a reaffirmation of our shared commitment to revitalize our bilateral relations" he added. (PNA)