By Ruth Abbey Gita-Carlos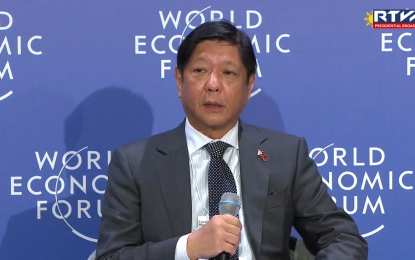 MANILA – President Ferdinand R. Marcos Jr.'s inaugural participation in the World Economic Forum (WEF) is a good move to sell the Philippines as an "excellent" investment destination, former president and House of Representatives Senior Deputy Speaker Gloria Macapagal-Arroyo said.
Arroyo said Marcos did well in presenting to WEF participants, including political and business leaders, his administration's agenda for the Philippines' economic recovery and growth.
"Matagal nang paniniwala ko na magiging maganda ang dating ni Pangulong Marcos dito sa Davos (I have always believed that President Marcos' trip to Davos would yield a good result). He is western educated, intelehente siya, at articulate siya (intelligent and articulate). To put it in English, he speaks their language," Arroyo, who is part of the official Philippine delegation in Davos, Switzerland for the annual WEF, said in an interview on Wednesday.
"Alam ng Pangulo na sa pag-uunlad ng ating bansa, napaka-importante ang pagsasama ng gobyerno at ng pribadong sektor. At ikalawa naman, malakas at matatag ang paniniwala ng private sector sa ating Pangulo (The President knows the importance of the government's partnership with the private sector to sustain the country's growth. The private sector also believes in the potential of the President)."
Arroyo expressed confidence that Marcos would attract more foreign investors during his trip to Switzerland.
She touted the country's good track record, considering that the government has a competent economic team.
"So ibig sabihin, stable ang pagpalakad ng ating ekonomiya kaya maganda ang ating economic forecast sa 2023 (Meaning, we have a stable economy. That's why the economic forecast for our country in 2023 is good). In one sentence, the Philippines is an excellent investment destination," Arroyo said.
Marcos, in his opening remarks for the WEF's high-level dialogue on investing in infrastructure resilience, assured investors that his administration is taking a "proactive" approach and creating policies that would boost their confidence.
He gave the assurance as he acknowledged the vital role of private sector partners in realizing the government's economic development goals.
Marcos likewise held a series of meetings with business leaders on the sidelines of the WEF to woo them to invest in the Philippines.
In another statement, Senator Mark Villar said Marcos obtained good inputs from experts, stakeholders and international counterparts in relation to the Maharlika Investment Fund (MIF).
"This is very useful especially when we tackle it in the Senate," said Villar, who is part of the Davos delegation.
During the Philippines' Country Strategy Dialogue on Wednesday, Marcos said the process for the establishment of the MIF is already in the pipeline.
"Such a fund is one tool among many in our efforts to diversify our financial portfolio, which includes our existing institutions pursuing investment that will generate stable returns, but also welfare effects spanning employment creation, improvement of public service, and a decrease in costs of economic activities," Marcos said.
Overall, Villar said Marcos' meeting with various business leaders will boost economic recovery and provide job opportunities.
"The trip brought more investment and jobs for the country," Villar said.
Seven of the country's business tycoons also joined the official Philippine delegation in Davos.
In a separate interview, Private Sector Advisory Council lead convenor and Aboitiz Group chief executive officer Sabin Aboitiz said the private sector is "very, very happy" to work with the Marcos government.
"The strong belief in the private sector, that combination is perfect because you know, not only do you get the money but the advice and the enthusiasm, right?" Aboitiz said.
Apart from Aboitiz, the official Philippine business delegation includes Kevin Andrew Tan (Alliance Global); Jaime Zobel de Ayala (Ayala Group); Lance Gokongwei (JG Summit Holdings); Ramon Ang (San Miguel Corporation); Teresita Sy-Coson (SM Investments); and Enrique Razon (International Container Terminal Services Inc). (PNA)