By Ruth Abbey Gita-Carlos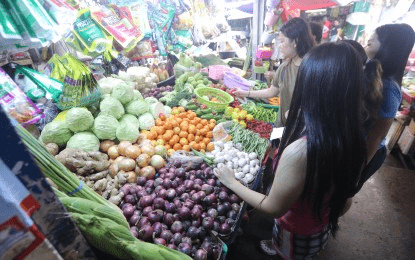 MANILA — The Marcos administration is undertaking several initiatives to tame the rising prices of basic goods and commodities, Malacañang said on Thursday.
"The administration's dedication remains unwavering in ensuring stability and providing assistance to those in need, safeguarding the citizens' interests in these challenging times," Communications Secretary Cheloy Garafil said in a statement.
This was after the Philippine Statistics Authority (PSA) reported that headline inflation rose to 6.1 percent in September from 5.3 percent in August, bringing the year-to-date inflation to 6.6 percent.
The PSA noted that the uptrend in the overall inflation in September was driven by the higher year-on-year increase in the heavily-weighted food and non-alcoholic beverages (9.7 percent from 8.1 percent) and transport (1.2 percent from 0.2 percent).
It added that the top three commodity groups contributing to the latest headline inflation were food and non-alcoholic beverages with 61.0 percent share or 3.7 percentage points; restaurants and accommodation services with 11.4 percent share or 0.7 percentage point; and housing, water, electricity, gas and other fuels with 8.6 percent share or 0.5 percentage point.
According to a PSA report, food inflation at the national level also rose to 10 percent in September from 8.2 percent in the previous month.
Higher food inflation was recorded on rice (17.9 percent from 8.7 percent), meat (1.3 percent from -0.1 percent), fruits and nuts (11.6 percent from 9.6 percent), and corn (1.6 percent from 0.9 percent).
Garafil said the country's economic managers are expecting a moderation in rice prices, as local production increases due to the onset of the harvest season and the entry of rice imports previously ordered.
"This will further alleviate the burden on our citizens," she said.
Garafil also ensured that President Ferdinand R. Marcos Jr. and his Cabinet are doubling their efforts to alleviate transportation costs.
She said the government is also doing its best to make long-term investments in irrigation and modern farming practices to support the agricultural community.
"The government remains committed to addressing the challenges posed by the 6.1-percent inflation rate recorded for September 2023 and has initiated a series of measures, including a digital Food Stamp Program, fuel subsidies, and targeted assistance for farmers, which extend beyond the short term," Garafil said. (PNA)