By Ruth Abbey Gita-Carlos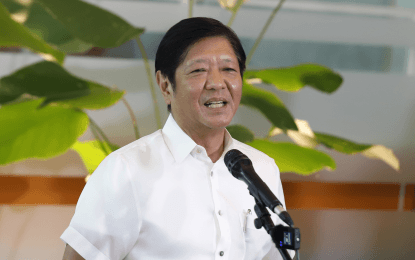 MANILA – "Joy, health, and success" are Malacañang's wishes for President Ferdinand R. Marcos Jr. who is celebrating his 66th birthday on Wednesday.
"The employees of the Office of the President extend its most heartfelt wishes to President Ferdinand R. Marcos Jr. on this day, September 13, 2023," the Office of the President said in a Facebook post.
"We thank you for your leadership and wish you joy, health, and success in all your endeavors as you continue to guide the Philippines toward a more prosperous future," it added.
In a separate statement posted on Facebook, the Presidential Communications Office (PCO) also greeted Marcos and prayed for his continued protection to enable him to fulfill his bid to transform the country into a "new Philippines."
First Lady Liza Marcos also expressed her birthday greeting to his "soul mate."
Marcos is currently in Singapore where he addressed a select group of chief executive officers and top investors at the 10th Asia Summit hosted by the Milken Institute.
He is also expected to meet with business leaders to strengthen economic ties and forge possible partnerships in select industries.
He will attend the finals of Formula One Singapore Grand Prix 2023.

Outreach missions
While he is out of the country, Marcos' 66th birthday celebration was marked with various activities such as tree planting, feeding and medical and dental mission organized by the "LAB For All – Lingap at Alagang Bayanihan" in several areas nationwide, PCO Secretary Cheloy Garafil said in a statement.
Garafil said the LAB For All, spearheaded by the First Lady conducted tree planting activities in 45 locations with over 25,000 seedlings planted by volunteers and partners from the One Movement Inc. and different local government units.
She added that the LAB For All also partnered with the City Environment Management Office of Bago in Negros to conduct a coastal cleanup, where 200 stakeholders including cash-for-work program recipients, members of various fisherfolk associations and LGU personnel joined the initiative.
She said the Department of Transportation also participated in the activities, along with the Philippine Ports Authority and other attached agencies from the rail, aviation and road sectors.
Garafil noted that medical and dental missions were also held in 69 locations in the country where 62,130 beneficiaries participated.
"These were co-organized by 21 LGU-partners as well as 70 partners from the Philippine Charity Sweepstakes Office (PCSO), which provided free medicines and multivitamins," she said.
Garafil said the feeding program was launched in 23 areas in the country, benefitting 28,500 recipients while "milk letting activities" were also held in three different locations with 150 beneficiaries.
She said the PCSO also donated sewing machines to its identified 43 beneficiaries as part of the celebration.
"At the Presidential Action Center (PACe), clients were treated with food packs, brought from North Star and Lola Nena's. From North Star, some 2,000 food packs consisting of barbecues and rice were distributed. Some 1,000 food packs consisting of pancit canton and toasted siopao, and another thousand mini boxes of cheese donuts were brought from Lola Nena's and distributed," Garafil said. (PNA)