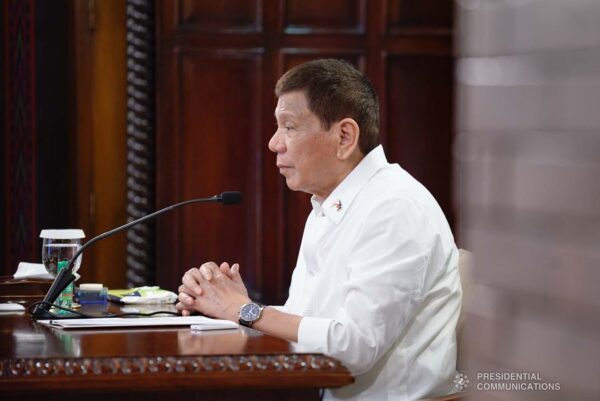 MANILA, June 15 (Mabuhay) — President Rodrigo Duterte will never cooperate with any investigation that may be launched by the International Criminal Court (ICC) regarding the killings blamed on his drug war, Malacañang said Tuesday.
"Hinding-hindi tayo maggko-cooperate dahil hindi na tayo miyembro ng ICC [We will not cooperate because we are no longer member of the ICC]," presidential spokesperson Harry Roque said at a press briefing in Camp Crame.
The Philippines withdrew from the Rome Statute, which established the ICC, in March 2019.
"Hinding-hindi magko-cooperate ang Presidente hanggang matapos ng kanyang termino sa June 30, 2022 [The President will never cooperate until his term ends on June 30, 2022]," Roque said.
Roque, a lawyer and the only Filipino member of the ICC's list of counsel, was responding to the statement issued by ICC Prosecutor Fatou Bensouda that she has requested judicial authorization from the body to proceed with an investigation on the Philippine government's drug war.
According to Bensouda, there is a reasonable basis to believe that murder has been committed in the Philippines between July 1, 2016 and March 16, 2019 in the context of the drug war.
Human Rights Watch described Bensouda's decision as a "big blow" to Duterte's "presumption of impunity for these crimes."
Roque, for his part, said the move was "legally erroneous" and "politically motivated."
"It is legally erroneous because in the first place the ICC has no jurisdiction over the subject matter of crimes against humanity as alleged in her information against President Rodrigo Roa Duterte," he said.
He also said the investigation "is not pursuant or in aid of substantial justice."
As for politically motivated, Roque noted that the brains behind the case, former Senator Antonio Trillanes IV, a vocal Duterte critic, has recently signified his intention to run for a higher position in 2022 elections.
He also mentioned that Bensouda herself is being accused of filing cases only against her fellow Africans.
"Kinakailangan niyang magkaso sa hindi Aprikano para patunayan na hindi totoo na kaya lang niyang magsampa ng kaso sa kapwa Aprikano niya [She needs to file a case against someone who is not an African to belie that accusation]," Roque said.
Roque, however, said the Duterte administration's liability before the ICC with regards to the drug war can also depend on the President's successor.
"Hindi natin alam ano ang magiging polisiya after 2022. Mabibigyan 'yan ng kasagutan ng susunod na Presidente [We don't know what will be the policy after 2022. That will be addressed by the next president]," he said. (MNS)
READ NEXT: BI: FOREIGNERS WITH APPROVED VISAS CAN LEAVE SANS ALIEN REGISTRATION CARD