By Ma. Cristina Arayata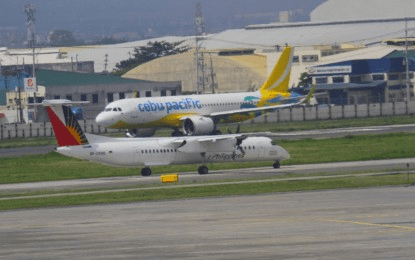 MANILA – Flag carrier Philippine Airlines (PAL) on Friday said the government's proposal for air carriers to move some of their flights to evening or early morning to minimize flight delays and cancellations is currently being studied.
"We already have a substantial number of existing red-eye flights. This new proposal by the government for us to mount more red-eye flights will have to be studied carefully," PAL spokesperson Cielo Villaluna told the Philippine News Agency.
A red-eye flight refers to a flight that departs at night and arrives the next morning.
Currently, PAL's red-eye flights are: PR466 Manila to Seoul (Incheon); PR484 Cebu to Seoul (Incheon); PR732 Manila to Bangkok; PR501 Manila to Singapore; PR382 Manila to Canton; PR110 Manila to Guam; PR595 Manila to Hanoi; PR894 Manila to Taipei; PR509 Manila to Singapore; PR310 Manila to Hong Kong; PR418 Manila to Busan; PR468 Manila to Seoul (Incheon); PR535 Manila to Jakarta; PR537 Manila to Denpasar; PR738 Cebu to Bangkok.
"Ang message lang namin (our only message) is for them to mount a schedule that they can support in terms of the number of aircraft that they have," Manila International Airport Authority (MIAA) officer in charge Bryan Co told reporters last Tuesday, in response to the recurring flight delays and cancellations of local airlines.
PAL and low-cost carrier Cebu Pacific (CEB) recently cited delays in the delivery of jet engines from the supplier as the reason behind flight disruptions.
CEB added that it also had to deal with ground damage from runway debris that created additional long-term grounded aircraft. A "much higher occurrence of Red Lightning Alerts," which require to halt all flight and ground activities at the airport, was also cited.
Earlier this week, Transportation Undersecretary Roberto Lim said they have advised airlines to reduce their flights to address the unavailability of planes.
While CEB did not comment on the call to mount more red-eye flights, its spokesperson said they had reduced their flight operations prior to the government's call.
"CEB temporarily scaled back its operations and has reduced frequencies especially those in Manila, including some recently-launched in Clark. This strategic choice should help us free up additional aircraft and increase our standby coverage to provide operational resilience," spokesperson Carmina Romero told the PNA.
"Rest assured that as soon as our fleet availability stabilizes, CEB is committed to reinstating its flights on the affected routes and will continue to expand the rest of its operations," Romero added.
Villaluna, on the other hand, said they have been meeting with aviation authorities to determine ways to address operational issues.
The PAL Group has already reduced the number of flights across both international and domestic sectors. The end goal is to improve on-time performance, schedule reliability and to ensure operational flexibility, she said. (PNA)