By Ruth Abbey Gita-Carlos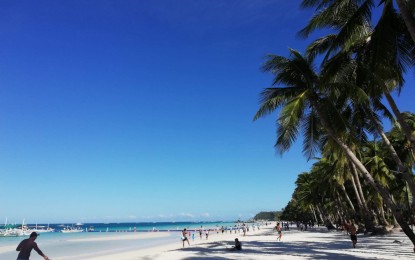 MANILA – Around PHP6.39 billion of the PHP5.268-trillion national budget for 2023 will be used to improve the country's tourism sector, the Department of Budget and Management (DBM) said Wednesday.
In a statement, the DBM said the multibillion-peso funding is part of the Marcos administration's resolve to promote the Philippines as a tourist hub and attract more foreign investments.
"A total of PHP6.39 billion has been allocated for the tourism sector under the FY (fiscal year) 2023 National Budget to support the Department of Tourism (DOT) in its campaigns for the promotion of the Philippines as a tourist destination and to boost the interest of foreign investors in the Philippine experience," the Budget department said.
The DBM issued the statement, as it joined the Department of Transportation (DOTr) and the Department of Public Works and Highways (DPWH) in providing support for the DOT to boost the Philippine tourism.
DBM Secretary Amenah Pangandaman, in a recent event in Tokyo during President Ferdinand R. Marcos Jr.'s five-day working visit to Japan, said the administration's priority expenditures, including "Build Better More" infrastructure program, will improve the overall tourism experience in the Philippines.
Pangandaman, the DBM said, acknowledged the "great contribution" of both the Japanese investors and tourists to the Philippines' economic growth.
"The Japanese [people] love leisure and recreation so we are enticing them to visit the Philippines more," the Budget chief was quoted as saying.
Under the 2023 national budget, the "Build Better More" program is given around PHP1.3 trillion, which is equivalent to 5.5 percent of the gross domestic product (GDP).
The bulk of the PHP1.3-trillion budget will go to physical infrastructure, covering the construction and maintenance of road networks (PHP 478.7 billion) and railways (PHP40.1 billion).
Social infrastructure will also be prioritized, allocating around PHP29.2 billion for school buildings and PHP14.4 billion for hospitals and health centers.
Meantime, the DOTr and the DOT signed a memorandum of agreement to establish better airports and seaports, to improve the overall tourist experience.
The DPWH, through its Tourism Road Infrastructure Program, also allocated some PHP17.69 billion for the construction and improvement of roads and infrastructure facilities in tourist zones.
The DOT is also keen on developing tourist rest areas, establishing tourism assistance call centers for tourist convenience, bringing tourism to the digital age and implementing fiscal and non-fiscal incentives to tourists.
Based on the figures from the DOT, the tourism sector has already recovered over 62 percent of its pre-pandemic flights and generated nearly USD4 billion (PHP220 billion), contributing to the country's GDP growth.
The DOT is hoping to exceed the current tourism numbers. (PNA)