By Ferdinand Patinio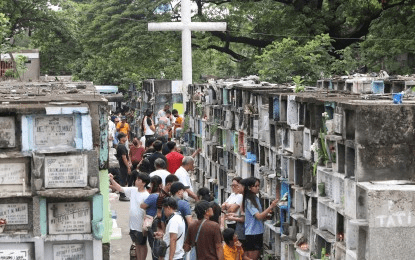 MANILA – Over 1.7 million people visited their departed loved ones in two major cemeteries in Manila from Oct. 29 to Nov. 1.
According to Atty. Princess Abante, spokesperson of Manila Mayor Honey Lacuna-Pangan, a total of 1,701,645 went to Manila North and South cemeteries and over 1.4 million individuals visited the two cemeteries on Wednesday, as of 6 p.m.
Some 1,025,000 went to Manila North Cemetery while 450,000 visited Manila South Cemetery, it was reported Thursday.
The Manila South Cemetery is an exclave of San Andres, Manila surrounded by land under the jurisdiction of Makati City.
The Manila North Cemetery is one of the oldest cemeteries in the National Capital Region and is one of the largest in Metro Manila at 54 hectares.
Meanwhile, the Manila government treated at least 600 children to a "Spooktacular Halloween Fest" on Oct. 31 at the Manila Zoo with Lacuna, clad in a Snow White costume, joining the event.
Children received different prizes, treats, and loot bags which contained chocolates, candies, chips, biscuits and drinks. (PNA)