By Marita Moaje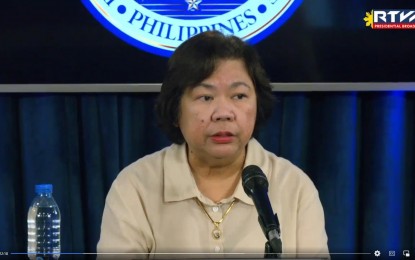 MANILA – Department of Migrant Workers (DMW) Secretary Susan Ople is set to fly to Cairo, Egypt on Tuesday evening to lead the distribution of welfare assistance to evacuated overseas Filipino Workers (OFWs) from war-torn Sudan.
In a press briefing in Malacañang, Ople said President Ferdinand R. Marcos Jr. directed them to quickly bring all affected Filipinos in Sudan to safety.
"The President's directive were number one, to get all of them to safety as quickly as possible, number two, it shouldn't matter whatever papers they have or if they don't have any papers at all," Ople said.
"To quote the President, kung marunong mag Tagalog, marunong mag-bisaya, marunong mag-ilokano marunong ng ibat-ibang dialect sa atin, Pinoy yan so we will help (if they know how to speak in Tagalog, Visayan, Ilocano or any other dialect in the country, they are Filipinos so we will help)," she added.
Ople assured that those who are not in possession of any passport or identity card will still be given assistance and that their documents will be taken care of when they reach the border, with the Department of Foreign Affairs (DFA) taking the lead.
She added that Marcos also instructed them to work with international partners such as the United Nations and the International Office of Migration (IOM) to be able to bring all the affected Filipinos to safety.
Ople said the DMW will have various teams composed of people who are experts in repatriation efforts and in responding to similar emergency crises to better assist the OFWs.
In partnership with the DFA and Philippine Ambassador to Egypt Ezzedin Tago, Ople said they would pinpoint the exact location where the cross-border assistance will be extended by the DMW teams.
Upon reaching the border, each OFW will immediately receive $200 financial assistance.
She said they will discuss with them other assistance that they would need from the Philippine government, especially if they would decide to go back to the country.
Meanwhile, DMW is now in communication with the Ministry of Human Resource and Social Development (MHRSD) of the Kingdom of Saudi Arabia for employment possibilities for those who would decide not to go home.
Aside from Ople, the DMW Welfare Assistance Team will be composed of Undersecretary Hans Leo Cacdac, Overseas Workers Welfare Administrator Arnell Ignacio and Jeddah, Saudi Arabia Labor Attache Roel Martin. (PNA)