By Azer Parrocha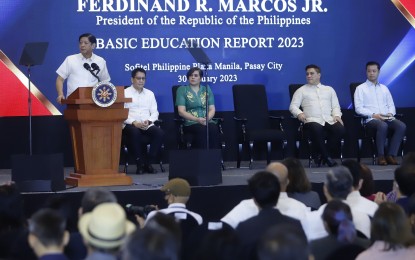 MANILA – The national government must confront issues facing the country's education sector with an open mind and compassion, President Ferdinand R. Marcos Jr. said on Monday.
In his speech during the presentation of the 2023 Basic Education Report (BER) at Sofitel Hotel, Marcos said the government has "failed" Filipinos, especially the children, on the issue of bridging the gaps that currently exist in the education sector.
"If we have failed them, we have to admit that, we have failed our children, and let us not keep failing them anymore, otherwise we will not allow them to become the great Filipinos that we know they can be," Marcos said.
"They will not become the great Filipinos that we'll be recognized not only by their fellow Filipinos but by many people around the world and thus it is once again reminds us that education is the most valuable service that the government can give to its citizens," he added.
Marcos said the government must use its desire not to fail Filipinos as the "main motivation" to address these challenges.
"…We in the administration recognizes the challenges and issues facing our education sector. All of which must be confronted with an open mind and compassion for those who might have fallen behind over the past few years," he said.
He expressed the belief that with a well-trained populace and a well-trained and highly experienced workforce, everything follows and that the country will succeed.
He was also confident that the country's education sector would soon see "noticeable improvements" under the helm of Vice President and Education Secretary Sara Duterte.
Marcos also thanked associations and the country's policymakers, the development partners and all stakeholders for their collective efforts and commitment to pursuing quality education for all.
"Your attendance is a manifestation that addressing our educational challenges requires not only a multifaceted approach but also the active participation of all," he added.
Upskilling and reskilling
Meanwhile, Marcos described education as both a "moral" and "practical" imperative for the government, noting that the country cannot succeed without a skilled workforce.
He emphasized the need to upskill and reskill the country's workforce and the government must first act "locally" to be "competitive globally."
"We will work hard so that no Filipino is left behind. And to do even better, we will ensure that we are at par with the global standards in basic education. This endeavor will be at the forefront of our efforts to realize our vision of providing a quality education for our children and for generations to come," he said.
He renewed his vow not to scrimp on investment in the education sector, particularly on building infrastructure that will provide the academic sector with a healthy and safe environment that is conducive to learning.
He also promised to continue investing in the country's teachers and learners as it is part of efforts to improve the educational system.
"We will offer them multiple opportunities that meet both their personal and professional needs. We will offer them the support they need in terms of resources, programs and policies so they can effectively perform their roles as teachers and mentors of our children. It is my firm belief that quality teachers yield hardworking, productive and law-abiding citizens," he said.
"We will also invest in our learners by giving them the right tools and mechanisms that they need in their day-to-day schooling. Let us take advantage of the new technologies and innovations that will provide them convenience and efficiency in their pursuit of learning," he added.
Marcos said it is equally important to advance learners' academic competencies and hone them to become productive and responsible members of society.
"That way we can produce young citizens who are not only productive but also harbor genuine love and passion for our country," he said.
Marcos said strengthening the country's education system warrants a "whole-of-government" and "whole-of-society" approach.
"Let us join hands and act in unison as we build the best education system that the Philippines has ever seen. We owe it to our children to prioritize their well-being and give them the highest possible quality of education so they may become the innovators and the leaders of tomorrow not only of the Philippines but of the world," he said.
The 2023 BER, which was presented by Duterte, outlines the state of basic education in the country, and the plans and initiatives of the Education department to fulfill its mandate. (PNA)