By Joyce Ann L. Rocamora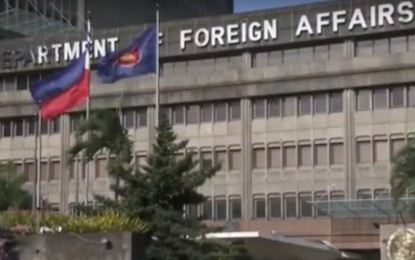 MANILA – There were no Filipinos on death row executed this year, thanks to the continuing government aid through the legal assistance fund (LAF).
For Foreign Affairs Undersecretary Eduardo Jose De Vega, this is one of the agency's major accomplishments in 2022 on top of the safe evacuation of Filipinos in war-torn Ukraine early this year.
"[K]ung mapapansin ninyo mayroon tayong mga kababayan na kinakasuhan sa abroad. Itong taon walang na-execute na Pilipino (If you notice we have countrymen facing various cases overseas. There is no Filipino executed abroad this year)," he said in a Laging Handa briefing Wednesday.
The diplomat attributed this zero execution to DFA's close coordination with host governments as well as direct engagement between the heads of state.
Based on the latest data from the DFA as of Nov. 11, there are 65 Filipinos on death row abroad.
DFA's LAF is made available for overseas Filipinos and migrant workers from the time of arrest to the trial proper and at all levels of appeal, especially for those charged with crimes punishable by life imprisonment or death.
It may also be used for immigration or deportation cases and labor disputes.
The DFA has so far disbursed 99.69 percent of its PHP200 million LAF and assisted a total of 6,000 OFWs as of Dec. 23.
In addition to LAF, the DFA also utilizes its PHP1 billion assistance-to-nationals (ATN) fund which covers welfare assistance for both documented and undocumented Filipinos in need of government assistance, mostly repatriation.
As of this posting, the agency has utilized 89.06 percent of the said fund and extended help to more than 120,000 Filipinos.
This year, thousands of distressed Filipinos were also sent home by the DFA with more than a hundred more trafficking victims expected to be repatriated from Southeast Asia.
De Vega said most of these trafficking victims were promised data encoding jobs and the likes but ended up working for Philippine Offshore Gaming Operators and scams.
"[M]insan sinasaktan kung hindi sila nakakuha ng kliyente. So we have a few doon sa more than 100 sa iba't ibang bansa sa Southeast Asia (They are often abused if they are not able to get a client. We have more hundred of them in different countries across Southeast Asia," he said.
As the year ends, De Vega said the DFA would strive to further improve its performance to better serve Filipinos abroad in 2023.
"I would say based on the performance ratings sa mga kababayan, we are quite satisfied. However, we can always improve. Laging dapat isipin na puwede pang ma-improve lalo, kaya gagawin namin iyan for 2023 (among our nationals, we are quite satisfied. However, we can always improve and we will do that in 2023," he said.
In his recent Christmas message, Foreign Affairs Secretary Enrique Manalo said the DFA would continue providing steadfast support to overseas Filipinos and their families.
Apart from protecting nationals abroad, he said the Philippines would also continue working with partners in upholding its sovereignty and territorial integrity, contributing to economic progress and enhancing the standing of the Philippines in the global community.
"Under the leadership of President Ferdinand R. Marcos Jr., the DFA continues to do its part in fostering national unity as our country embarks on a journey to recover and transformation in the post-pandemic era," he said.
"For 2023, the Department reaffirms its commitment to actively maintain its engagement with the international community and advance Philippine interests abroad to ensure a stable and safe political, economic and social environment for all Filipinos," he added. (PNA)