By Priam Nepomuceno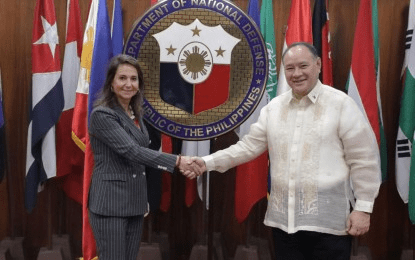 MANILA – The Department of National Defense (DND) said Thursday the Netherlands is interested in boosting its defense ties with the Philippines, especially in the field of naval defense cooperation.
Dutch Ambassador to Manila Marielle Geraedts conveyed this during her courtesy call on Defense Secretary Gilberto C. Teodoro Jr. on Oct. 2.
"Noting the Philippines' recent adoption of the National Security Policy 2023-2028, the Dutch Ambassador reiterated the proposal on establishing naval defense industry cooperation with the Philippines, underscoring its strategic and economic advantages in the long term," DND spokesperson Arsenio Andolong said in a statement.
The Netherlands' naval industries is one of the most capable in the world and is known for constructing high-quality patrol ships, corvettes, frigates, and submarines.
"Secretary Teodoro agreed and further proposed to develop broader defense cooperation, taking into consideration the importance of other areas, such as cyber and artificial intelligence, as well as the Netherlands' potential to become a partner in these areas," Andolong said.
He also said Teodoro proposed "greenfield opportunities" in various industries, particularly in defense and security, with the Netherlands and the European Union, as a means to advance overall bilateral cooperation.
"Relatedly, the SND (Secretary of National Defense) shared about the recalibration of the Philippines' defense strategy, which sees a shift in favor of territorial and external defense, and underscores the development of a credible defense posture that will effectively protect Philippine interests in the country's exclusive economic zone," Andolong said.
Stronger PH-Norway maritime, cybersecurity ties
Meanwhile, Teodoro and Norwegian Ambassador to the Philippines Christian Halaas Lyster reaffirmed their commitment to the rule of law and the 1982 United Nations Convention on the Law of the Sea (UNCLOS) when he paid a courtesy call on Oct. 2.
"As the Philippines and Norway celebrated the 75th anniversary of establishing diplomatic relations on March 2, 2023, Ambassador Lyster proposed on exploring maritime, energy, and fisheries industry cooperation with the Philippines. Secretary Teodoro, for his part, welcomed Norway's support, noting that it would enable the country to refocus on deterrence, increase footprint in the West Philippine Sea, and assert sovereign rights for resource exploration and exploitation in the country's exclusive economic zone," Andolong said.
During the meeting, Teodoro and Lyster discussed non-security concerns and reiterated the importance of the cyber domain and the seriousness of threats, such as fake news, as interconnectivity in information systems dramatically increases.
"To that end, both sides highlighted coordination with like-minded partners, especially in strategic messaging, as an effective means to counter such threats," Andolong said. (PNA)