By Raymond Carl Dela Cruz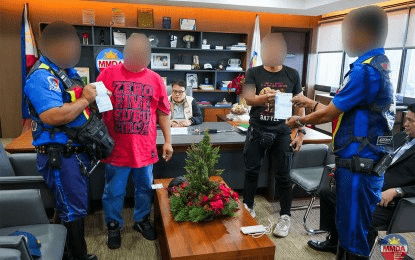 MANILA – The Metropolitan Manila Development Authority (MMDA) on Thursday issued citation tickets to two drivers who name-dropped Senator Ramon "Bong" Revilla Jr. when they were apprehended for illegally driving through the Epifanio Delos Santos Avenue (EDSA) busway.
MMDA Acting Chair Don Artes met with the two drivers after the owner of the two vehicles reached out to him through a common friend.
"The agency considers this a welcome development in light of the incident as the agency conducts a probe and determines the lapses in the procedures in the implementation of the EDSA bus lane regulation," he said.
The MMDA has not provided any information as to the identity of the owner.
During the meeting, Artes questioned the two drivers of what happened during their apprehension.
The two drivers admitted to not having Revilla onboard their vehicles at the time and that the lawmaker was not the owner of the vehicles.
Artes ordered the issuance of traffic violation tickets to the two drivers—PHP5,000 each for a first offense of violating the EDSA Busway—and noted that it is Revilla's decision whether to file charges to the drivers for using his name.
On the other hand, the MMDA enforcers who apprehended the drivers admitted to not having personally seen Revilla inside the vehicles and just relied on the statement of the driver who mentioned the name.
Artes also clarified that the preventive suspension placed against MMDA Task Force Special Operations Unit Chief Bong Nebrija was "not because he was doing his job, but because he went overboard" for stating that the MMDA has a policy to allow certain individuals through the EDSA busway and for erroneously implicating Revilla.
On Wednesday, MMDA traffic enforcers stopped two vehicles bearing protocol plates—special plates issued by the Land Transportation Office (LTO) to high-ranking government officials—for passing through the EDSA busway.
Nebrija later reported that the driver said Revilla was their passenger and that the apprehending enforcer claimed to have personally seen him and thus made the decision to let them pass.
However, Revilla denied the allegations as he was at home in Cavite at the time and had not recently passed through EDSA.
Nebrija and the MMDA later apologized to Revilla. The senator accepted the apology and said he will no longer push for the recall of the proposed 2024 budget of the MMDA. (PNA)