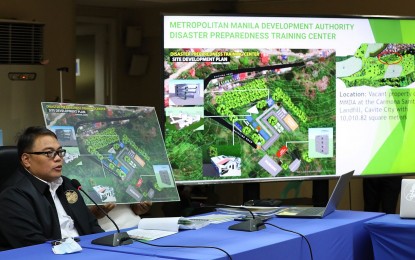 MANILA – The Metropolitan Manila Development Authority (MMDA) will open a center for disaster preparedness training that will provide instruction to help emergency and calamity responders prepare for, respond to, and recover from disasters.
The training center aims to improve and institutionalize disaster response measures in the metropolis and to provide a safe, conducive, and controlled learning environment to capacitate individuals and stakeholders on emergency response and public safety that outlines the effective management of emergency situations and all matters related that may occur in the face of a crisis.
MMDA acting chair Don Artes said the training center was conceptualized after the agency saw the gaps in the capacity-building and training of rescuers after an earthquake hit Abra province in October last year, where rescuers had to come from different areas.
"The agency saw the need to build a center that will focus on disaster response to empower rescuers and provide those affected by disasters with immediate assistance," Artes said.
It is also a preparatory measure to avoid estimated casualties in the event that a 7.2-magnitude quake hits Metro Manila, according to the 2004 Metro Manila Earthquake Impact Reduction Study conducted by the Japan International Cooperation Agency (JICA).
In the study, the estimated impact of the quake, which is called "The Big One," may reach at least 35,000 people dead, 120,000 injured, and an economic loss reaching 2.5 trillion pesos.
The center, with a lot area of more than one hectare, will be furnished with the necessary facilities, and tools to provide participants with an experiential learning opportunity. It will be built on a vacant property of the MMDA at the Carmona Sanitary Landfill in Cavite City.
The training center will feature four training facilities: Rappelling tower, Confined Space Structure, Wrecked Building with Structure Rubble Pile, and Pancake Collapsed Structure which will provide training on real-life rescue scenarios.
The rappelling tower is designed to provide trainees with the skills required for safe, effective, and reliable methods of rescuing trapped and injured persons from elevated structures or areas of difficult access; confined space structures to provide individuals with collapsed structure rescue tasks with the knowledge and skills necessary to search for, stabilize, and extricate victims trapped in structures using the safest and most appropriate procedures; wrecked buildings with structured rubble piles to provide training that involves the location, extrication, and initial medical stabilization of victims trapped or missing; and pancake collapsed structures to provide a training ground for building appears to have fallen in a "pancake collapse" scenario wherein a building's lower floors or foundation triggers the top floors to collapse vertically in the floors below.
The Center, expected to open before the end of the year, will initially cater to 17 Metro Manila Disaster Risk Reduction and Management Offices and will soon accommodate other government agencies, barangay auxiliaries, fire volunteer groups in the Metropolis, and rescuers from other provinces.
A medical clearance is required for an interested rescuer is required to have medical clearance before one can participate to ensure physical fitness to undergo training.
"We will provide them with two-week trainor's training using our existing equipment, such as life locators and vibrascopes, among others, so we can produce more rescuers that can extend immediate disaster response assistance to nearby areas should an earthquake occur," Artes said.
The agency will also procure additional modern rescue equipment and preposition those to four quadrants in Metro Manila, as stated in the Oplan Metro Yakal Plus, or the Metro Manila Earthquake Contingency Plan. (PNA)