By Ma. Cristina Arayata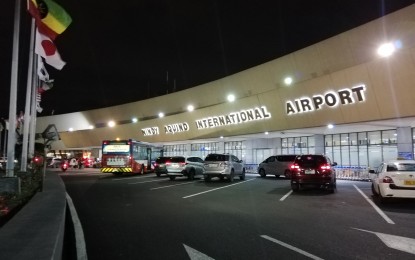 MANILA – To ease the experience of air travelers, the Manila International Airport Authority (MIAA) on Thursday began removing the initial screening procedure at the Ninoy Aquino International Airport (NAIA) Terminal 1.
"The removal of the initial screening process is consistent with international standards to ease the movement of passengers," Ma. O Aplasca, Office for Transportation Security (OTS) administrator, told the Philippine News Agency (PNA).
Aplasca, however, clarified that other security measures have been implemented, such as the deployment of armed personnel and vehicles to the curbside.
Intelligence personnel were also deployed to monitor the movement of people and to identify possible criminal elements and terrorists.
K9 units have been deployed as well to conduct random sniffing of luggage for possible improvised explosive devices (IEDs).
Aplasca bared that the OTS plans to maintain a "passenger only" terminal to control the people's movement.
"For other (NAIA) terminals, we will also conduct the necessary assessment," he said.
In a TV interview, MIAA Senior Assistant General Manager Bryan Co said most international airports also do not apply an initial screening process.
MIAA, Co said, consulted with the airlines and government security agencies about this move to mitigate the long queues at the airport.
The MIAA will closely observe the pilot test before implementing it in the other terminals, he said.
A screening area, however, will be maintained for the employees in line with recent reports that some people have used fake airport passes.
Card transactions underway
Meanwhile, in response to the experience a foreigner shared on TikTok, Co said the MIAA already coordinated with concessionaires to make credit card facilities available.
A TikTok post recently became viral, as the content creator lamented he couldn't buy something to eat at NAIA Terminal 2 as all the stores only accept cash.
The foreigner added that he could not withdraw cash because the only ATM he saw did not have cash at that time.
"We know it is important for our travelers, especially the foreign tourists, to have access to different modes of payment. We contacted the involved concessionaires and they have committed that all credit card facilities will be up within two weeks," Co said in a radio interview.
He added that the MIAA has also called the attention of the bank featured in the TikTok video to make sure that their ATM has money. (PNA)