By Filane Mikee Cervantes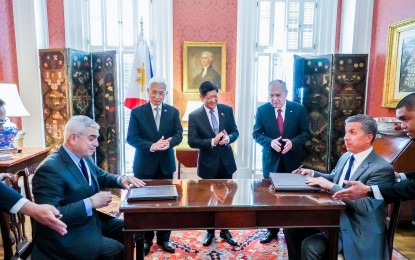 MANILA – President Ferdinand R. Marcos Jr. on Monday (Washington, D.C. time) witnessed the signing of a memorandum of agreement (MOA) between Integrated Micro-Electronics Inc. of the Ayala Group and California-based Zero Motorcycles on a strategic manufacturing collaboration on electric motorcycles.
In a news update released by the Presidential Communications Office, the cooperation agreement has a projected amount of USD65 million to support the Philippines' development of its electric vehicle ecosystem.
The US-based company will take the lead in establishing the first electronic vehicle (EV) motorcycle manufacturing site in the Philippines.
IMI, for its part, will assemble Zero's electric motorcycle models as well as other assemblies in its facility in Laguna in conjunction with the manufacturing facilities for Zero in California.
The IMI-Zero operations are expected to employ 200 workers for its assembly line, from manufacturing, packing and shipping 18,000 EVs per year.
During the meeting, Zero said the Philippines is a "clear choice" for its operations as the firm aims to globalize its manufacturing business, targeting Europe, Asia and other markets, while supporting US demands for sub-assemblies.
"The Philippines… for us [is] a perfect partner for us to expand our manufacturing. This is a good place for us to build a global manufacturing base," a representative of Zero said.
IMI said it is uniquely positioned to have both the competency of electronics manufacturing as well as bike assembly under one roof.
Zero's electric motorcycles will be made available in 2024 through AC Industrials.
Joining the President in the business meeting were Speaker Martin Romualdez, Trade Secretary Alfredo Pascual, Energy Secretary Raphael Lotilla, Special Assistant to the President Secretary Antonio Lagdameo Jr., Communications Secretary Cheloy Garafil, and Philippine Ambassador to the US Jose Manuel Romualdez.
Among those who attended the meeting for the IMI include Ayala Corporation chairperson Jaime Augusto Zobel de Ayala and Automotive and Industrial regional manager Dave Corry, while Zero Motorcycles were represented by its chief executive officer Sam Paschel and Alex Acket, chief operating officer. (PNA)