By Azer Parrocha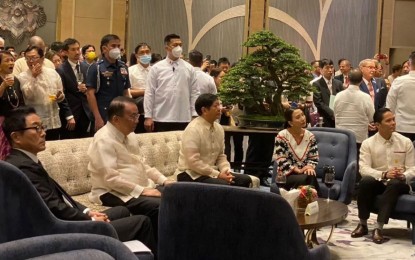 MANILA – President Ferdinand R. Marcos Jr. on Wednesday shared a message for Japanese Emperor Naruhito as he celebrates his 63rd birthday on Feb. 23.
"I wish abundant happiness and blessings to His Majesty the Emperor as he leads Japan to continued prosperity and the promotion of peace," Marcos said in his toast remarks at the National Day of Japan and the emperor's birthday celebration at the Japanese Embassy in Manila.
Emperor Naruhito formally ascended to the Chrysanthemum Throne on May 1, 2019 following the abdication of his father, Akihito.
He is the 126th monarch according to Japan's traditional order of succession.
Meanwhile, Marcos also recognized the strong ties between the Philippines and Japan, which he described as a "friend, neighbor, and strategic partner."
"The breadth and depth of our engagement with Japan is a partnership for peace and progress, not only for Japan but certainly for the Philippines. Our strategic partnership is indeed stronger than ever," he said.
Marcos noted that Japan has been one of the Philippines' partners in the efforts to realize the country's transformative agenda in infrastructure, social inclusion and defense, among others.
He, likewise, underscored the "vibrant" people-to-people cooperation in tourism and labor exchanges and lauded Japan's unwavering support for peace and development in Mindanao.
To recall, Marcos had an imperial audience with the Japanese Emperor and Empress Masako during his trip to Japan earlier this month.
He conveyed the affection and admiration of the Filipino people, including the estimated 300,000 Filipinos who consider Japan their second home.
Marcos also met with Prime Minister Fumio Kishida and discussed a broad range of cooperation, "revealing just how responsive and robust our partnership has grown since we established diplomatic relations in 1956."
During Marcos' five-day trip to Tokyo, Japan pledged to provide 600 billion yen (USD4.6 billion) in official development assistance and private-sector investment to support the Philippines' economic development plan to become an upper middle-income country by 2025.
The Philippines and Japan also signed seven bilateral agreements that cover cooperation in infrastructure development, defense, agriculture, and information and communications technology.
Marcos returned to Manila on Feb. 12 bringing home USD13 billion worth of investment pledges that will help boost the economy and generate around 24,000 jobs for Filipinos. (PNA)