By Ruth Abbey Gita-Carlos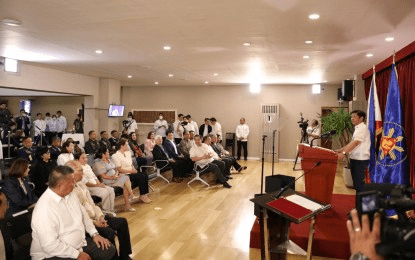 MANILA – President Ferdinand R. Marcos Jr. has expressed gratitude to Timor-Leste for its "quick" rejection of Negros Oriental Representative Arnolfo Teves Jr.'s application for political asylum.
This, as Marcos on Thursday held a bilateral meeting with Timor-Leste Prime Minister Taur Matan Ruak on the sidelines of the 42nd Association of Southeast Asian Nations (ASEAN) Summit and Related Summits in Labuan Bajo, Indonesian.
During the meeting, Ruak mentioned Timor-Leste's decision to turn down the asylum request of Teves who was considered as one of the possible masterminds in the killing of Negros Oriental governor Roel Degamo and several others.
Marcos thanked Ruak for the prompt action on Teves' asylum plea, saying it would now be easier for authorities to bring Teves back to the country to answer the allegations against the embattled lawmaker.
"In denying his request for political asylum then we are going closer in the case to bring him back home to face the allegations that have been made [against him]. But again, we thank you for your very quick response in that regard," Marcos told Ruak.
"Thank you very much Mr. Prime Minister for your very quick action on this issue," he added.
The Department of Foreign Affairs (DFA) on Tuesday reported that Timor-Leste has denied Teves' application for political asylum.
Timor-Leste has given Teves five days to leave the host country.
On Wednesday, House Speaker Ferdinand Martin G. Romualdez renewed his call on Teves to return to the Philippines and face the charges in connection with the brutal killing of Degamo in March this year.
If Teves fails to return, the House Committee on Ethics and Privileges might recommend further sanctions against the suspended lawmaker, Romualdez said.
The House of Representatives suspended Teves for 60 days late in March for failure to return to the country and face the ethics panel despite the expiration of his US visa.
PH's 'partner'
Meantime, Marcos assured Ruak that the Philippines will be Timor-Leste's "partner" as it moves towards becoming a full-fledged member of the ASEAN.
"In the Philippines, you have a partner. We have always been supportive," he told Ruak, saying he expects a continuing intra-ASEAN discussions and coordination, as well as stronger bilateral connections between the two countries.
"It has always been our view that the membership of Timor-Leste in ASEAN could only strengthen ASEAN and I'm very happy that the process has continued and you are now here to join us as an observer with the ultimate end of becoming a full-fledged member of ASEAN," he added.
The President also expressed elation over Timor-Leste's journey towards becoming a democratic state and eventually becoming an ASEAN member-state.
"I'm very happy that to see — the fruition of what we have been discussing in ASEAN as the membership of Timor-Leste," Marcos said. "I came then happy to see that there has been progress, and they will now have the observer status and are beginning to participate in the discussions with what we have. As you can see, there are some.. the strength of Asia really is the commonality."
Timor-Leste currently holds an observer status in the regional bloc.
Ruak expressed gratitude to Marcos for the Philippines' continued support to Timor-Leste's ASEAN membership bid, noting that Dili has been working hard to comply with all the criteria and conditions set by the regional bloc.
"[The] Philippines is a great friend of Timor-Leste. We have a big community of Philippines in our country, but we have also a big community of Timorese in Philippines. We have the missionaries, we have the teachers. So it's not just diplomatic relations, it's emotion," Ruak said through a translator.
"Additionally, we have had the support of Philippines since the very first moments of our independence," he added, mentioning the presence of Filipino peacekeepers under the banner of the United Nations. (PNA)