By Anna Leah Gonzales and Joyce Ann L. Rocamora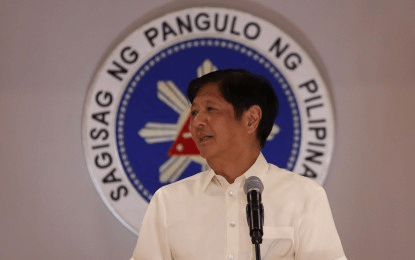 MANILA – The government is still "seriously looking" into the United States' request to allow the temporary stay of Afghanistan refugees in the country before coming up with a decision, President Ferdinand R. Marcos Jr. said on Monday.
In an interview in Pampanga, Marcos told reporters that the issue of hosting Afghan nationals in the Philippines is a more complicated matter than in previous cases when the country accepted refugees.
"I would like to manifest the Filipino instinct of hospitality," Marcos said.
"Many times had happened that there have been…situations around the world and may mga nagkaka-refugee, hindi tinatanggap kahit saan, tayo tinatanggap natin at hindi tayo kinakalimutan ng tinulungan natin (there are people who become refugees, are not accepted anywhere, we accept them, and those we helped do not forget us). Eh ganyan talaga ang ugali ng Pinoy (Well, that's how Filipinos are)," said Marcos.
"Ngunit ito ay ibang usapan 'to kasi may halong pulitika, may halong…security so medyo mas kumplikado 'to ( But this is different, there's politics involved, there's…security so it's a bit complicated). So, we'll look at it very, very well before making a decision."
Marcos issued the comments after he was asked if the government has already decided on US President Joe Biden's request to temporarily accept refugees from Afghanistan.
Philippine Ambassador to the US Jose Manuel Romualdez earlier disclosed that the initial request was first made in October last year for the "pure processing of special immigration visas" for Afghans and their families who used to work for the US government and "whose lives are in danger."
According to Romualdez, the Afghan nationals would be vetted and "will be repatriated back to Afghanistan," if their entry request is declined.
Marcos noted that there is no deadline set for the request.
"What we are talking about is that we are trying to see what are the problems…what issues are arising. And in so doing, we are trying to find ways to remedy those issues that we feel are something that we have to deal with," he said.
"So, we have made some progress but there are still some major obstacles to us being able to do it. But we continue to consult with our friends in the United States," he added.
State Department Counselor Derek Chollet said Washington, D.C. appreciates Marcos' remarks.
"I'm not going to comment on the details of those diplomatic discussions that we are having but they are ongoing," he said in an interview in Makati.
"[W]e appreciate the comments of the President today (Monday) that we are working closely with them and trying to find a way forward to ensure that we, the United States, could stand by the commitment that we have made to our partners in Afghanistan," he added.
The US continues to process special immigration visas even after the closure of its embassy in Kabul in August 2021 when the Taliban took power. (PNA)