By Azer Parrocha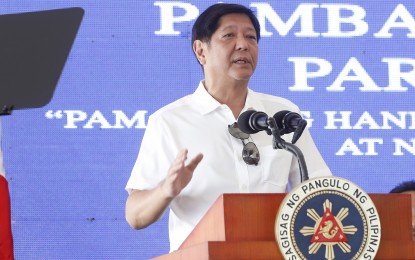 MANILA – President Ferdinand R. Marcos Jr. on Thursday said he is open to having the Philippine government impose additional restrictions on travelers from China following a new surge of severe Covid-19 cases in the east Asian country.
Marcos, however, said the Department of Health (DOH) would first have to study the country's risk of a possible new wave of infections coming from China.
"As long as it's based on science and we feel that there's a need, we will do it. But again, it depends on what the true risk is to us," he said in a video from the Office of the Press Secretary (OPS).
Closing the country's borders to China will be the last resort, he said, adding that additional Covid-19 testing may suffice.
"Kung (If) it's something that is manageable, then I'm sure we can find a way to not completely close our borders to China but to find a way, to have a procedure so that those coming from China who may been have exposed or who may have been infected will be tested and 'yun lang naman ang ating inaalala (and that's all we are concerned about)," he added.
Early this month, China eased its strict zero-Covid-19 policy of lockdowns and testing amid public protests. The move was welcomed by many but also led to a surge in Covid-19 infections.
A number of countries, including the US, India, Japan, and Italy, have started imposing curbs on inbound Chinese travelers after Beijing relaxed its zero-Covid-19 rules.
China has rejected criticism of its Covid data and said it expects future mutations to be potentially more transmissible but less severe.
Covid-19 state of calamity
Meanwhile, Marcos said he still undecided about extending the state of calamity declared in the Philippines due to Covid-19 because he believes it may no longer be necessary.
"I'm still very, very hesitant to continue the state of calamity to extend it because again, we are not in a state of calamity anymore technically speaking and that is the wrong mindset to be approaching the new year," he said in the same video from the OPS.
He also said the national government is still looking for ways to sustain the allowances to healthcare workers should the state of calamity declaration be lifted.
"…We're still trying to find ways to continue to provide the benefits to our medical health workers, which is the main issue, without the state of calamity," he added.
On Tuesday, DOH officer-in-charge Undersecretary Ma. Rosario Vergeire said the agency has sought the extension of the state of calamity declaration, saying lifting the declaration at this point would cost the "different response strategies that we are doing right now".
The DOH made the move after the bill creating the Philippine Centers for Disease Prevention and Control (CDC) "was not enacted on time".
In September, Marcos signed a proclamation extending the period of state calamity throughout the Philippines due to Covid-19 until Dec. 31, 2022.
Marcos signed Proclamation No. 57 following the recommendation of the National Disaster Risk Reduction and Management Council to further extend the declared state of calamity "in order for the national government and LGUs to continuously deliver Covid-19 related interventions, such as, but not limited to Covid-19 vaccination program; utilize appropriate funds, including the Quick Response Fund, in their disaster preparedness and response efforts to contain the spread of Covid-19; monitor and control prices of basic necessities and prime commodities; and provide basic services to the affected populations."
The wearing of face masks in both outdoor and indoor settings was made voluntary in October except inside healthcare facilities, medical transport vehicles and public transportation.
Those who have yet to complete their primary Covid-19 vaccination series, senior citizens, immunocompromised persons and symptomatic patients are still "highly encouraged" to use face masks. (PNA)