By Joyce Ann L. Rocamora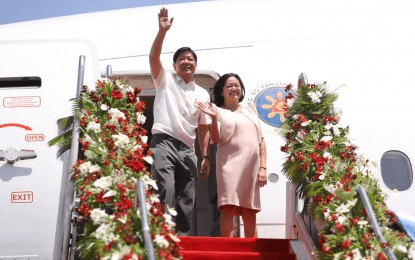 MANILA – The Philippines' pursuit of an independent foreign policy that balances relations with all nations has "proven effective," President Ferdinand R. Marcos Jr. said Monday.
Marcos noted how Manila, through this approach, was able to enhance bilateral ties with both traditional and non-traditional partners.
"Our independent foreign policy – a friend to all and enemy of none – has proven effective. We have formed strategic alliances with our traditional and newfound partners in the international community," he said in his second State of the Nation Address (SONA).
Apart from sending a message that the Philippines is committed to promoting peace in the region, Marcos said his foreign trips yielded an estimated total investment value of USD71 billion for the Philippines, or PHP3.9 trillion, with the potential to generate 175,000 jobs for Filipinos.
"We have embarked on foreign trips to promote the interests of the country, for peace-building, and for mutually beneficial purposes," he added.
Marcos, in a span of 10 months, has already engaged counterparts and sought to enhance bilateral cooperation during his trips to Indonesia, Singapore, Cambodia, Thailand, Belgium, China, Switzerland, Japan, the United States, and the United Kingdom.
In his state visit to Japan alone, Marcos witnessed Tokyo affirming its intention to support the Philippines attain Upper Middle-Income Country status by 2025 through the active contribution of official development assistance (ODA) and private-sector investment of 600 billion yen in Japanese Fiscal Years 2022–2023.
This trip also saw Japan and the Philippines working closer to bolster defense and cooperation, starting with the signing of the terms of reference on the Japan Self-Defense Forces' humanitarian and disaster relief activities in the country.
With the US, the country established the first bilateral defense guidelines to lay out ways for Manila and Washington DC to modernize their alliance.
Despite an ongoing maritime row over the South China Sea, Manila was also able to compartmentalize and continue engaging Beijing in the economic sphere.
Trade between the two states has reached USD87.73 billion, making China the Philippines' largest trading partner for seven consecutive years.
Marcos said existing bilateral and multilateral trade agreements, notably within the ASEAN framework, and with Japan, and with Europe, allowed the Philippines "to leverage our competitive advantages and reap economic benefits".
"We will continue to forge more of these international partnerships that will lead to a more balanced trade strategy and a healthier economic position," he said.
With the Regional Comprehensive Economic Partnership now in force, Marcos said the Philippines can now have competitive access to a regional market of two billion people.
'Preserving sovereignty'
Making good on his promise to protect every square inch of Philippine territory, the Marcos administration adopted a policy to publicize maritime incidents in the West Philippine Sea and keep both the public and the international community abreast of Chinese incursions on Philippine waters.
Marcos said the Philippines would continue to protect its sovereign rights and preserve its territorial integrity.
"Our journey to progress requires not only unity and social cohesion among our people. It is also imperative that our nation remains intact and inviolable, our sovereignty preserved," he said. "We will protect our sovereign rights and preserve our territorial integrity, in defense of a rules-based international order."
Putting paramount on the national interest, he said his administration "will always pursue constant dialogue and diplomatic approaches to the resolution of any issue that may arise".
As of July 21, the Philippines has filed 99 diplomatic protests on China's continuous activities within its exclusive economic zone.
The administration this year also created an office for the presidential adviser on the West Philippine Sea, indicating the importance it places on handling the issues surrounding the area. (PNA)