By Azer Parrocha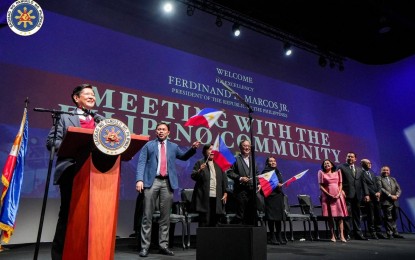 MANILA – President Ferdinand R. Marcos Jr. on Tuesday (Philippine time) said he looks forward to pursuing a strategic partnership with Belgium in various fields and signing a Philippines-Belgium Joint Plan of Action for 2023 to 2027 that could enhance their bilateral cooperation.
Marcos made this remark during his meeting with the Filipino community at the Event Lounge in Brussels, Belgium ahead of his participation in the Association of Southeast Asian Nations (ASEAN)-European Union (EU) Commemorative Summit.
In his speech, he told Filipinos in Belgium about his scheduled meeting with King Philippe and how they would discuss the recent commemoration of 76 years of bilateral relationships between the Philippines and Belgium.
"It will also be an opportunity to convey to the King that the Philippines intends to pursue a strategic partnership with Belgium in various fields, and to this end, we look forward to signing a Philippines-Belgium Joint Plan of Action for 2023 to 2027 that could further enhance bilateral cooperation, allow our two countries to discuss regional and global issues of mutual concern," he added.
He also thanked the Filipino community for playing a huge part in strengthening Philippine-Belgian ties.
"Our relationship have remained strong and vibrant based on shared values, common interests, and the good reputation that Filipinos have built, not only here in Europe but all over the world…At malaki po ang itinulong ninyo diyan (And you have played a huge part in that aspect)," he said.
Aside from King Philippe, Marcos is also set to hold 10 bilateral meetings with leaders from Belgium, Estonia, the Czech Republic, Spain, Denmark, Germany, Poland, Finland, the Netherlands and the European Union.
Other Filipinos who attended the Filipino community event came all the way from Luxembourg, the United Kingdom, Germany, France, Poland, the Netherlands and Switzerland.
More quality jobs
Meanwhile, Marcos praised overseas Filipinos in Europe for their dedication, generosity and kindness, which contribute to the many reasons why Filipinos are highly regarded overseas.
"Although we speak different languages and follow varied belief systems, we have different types of government, we have different taste in all kinds of things, the Filipino community organizations here in Europe continue to maintain deep and growing friendships with people of different nations," he said.
"Filipinos in this part of the world will continue to be highly regarded because of your jolly and high-spirited manner, your hard work, your dedication, and what you do, of course, even more — perhaps even more importantly, your generosity, your compassion and your kindness," he added.
He assured that his administration is on track to create more quality jobs by investing heavily in human capital development, infrastructure and the digital economy.
"Inspired by your dedication and hard work, to ensure that all your sacrifices will not come to nothing, this Administration has embarked on an 8-point socio-economic program that aims to effectively respond to the risks brought about by an unpredictable global political economy, provide enough safety nets to cushion our vulnerability to shocks and steer our economy back to its pre-pandemic high-growth trajectory," he said.
Marcos expressed hope that his administration's efforts would ensure that fewer Filipinos need to work abroad due to lack of opportunities back home.
"With the new socio-economic agenda, we will strengthen our economic institutions and create more jobs that are both sustainable and in line with labor standards worldwide. You will no longer, one day, you will no longer be driven by the lack of opportunities in choosing to go abroad," he said.
He vowed to provide more equal and sustained access to local markets so that those who wish to engage in business will be amply supported.
Marcos likewise encouraged overseas Filipinos to invite their foreign friends to visit the Philippines and support the growing economy.
"Imbitahin ninyo ang inyong mga kaibigan at kanilang mga kasamahan na pumunta at bumisita sa ating bansa upang maramdaman nila ang sikat na (Invite your friends and their friends to visit our country and experience the famous) Filipino hospitality – hospitality that they are already experiencing through you…Encourage them to taste our food, witness creativity, enjoy and experience our culture," he said.
More labor attaches
Department of Migrant Workers (DMW) Secretary Susan "Toots" Ople announced that the government is also committed to adding more labor attaches to protect the rights of Filipino migrant workers in different parts of the world.
"Next year may budget na tayo. Makakatulong na kami nang husto sa inyo. Magdadagdag kami ng mga office ng labor attaches natin. So, pag-aaralan natin sa Europe, kung saan kami pwedeng magdagdag (Next year, we will have our own budget. We will be able to help you better. We will add more labor attaches. So we will study where in Europe we can add them)," Ople said.
She said the Marcos administration is also strengthening initiatives with the Department of Trade and Industry and Go Negosyo to help overseas Filipinos who want to return to the country for good.
"Pinagtitibay namin ngayon 'yung mga agreements, sa kautusan ni President Marcos, gusto niya na iyong mga uuwi, na katulad niyo na matagal sa abroad, 'yung mga gustong mag-invest, tuturuan natin (We are strengthening agreements, under the directive of President Marcos, he wants to invest in those who want to return home for good, let's teach them)," she added.
She noted that the Department of Agriculture and the Department of Agrarian Reform will also provide opportunities for returning OFWs who want to venture into agriculture and agribusiness enterprises.
"Yung gusto namang mag-farming, mag-agribusiness, 'yung may mga lupang nakatiwangwang, tutulungan naman kayo ng Department of Agriculture (Those who want to pursue farming, agribusiness will be assisted by the Department of Agriculture)," Ople said.
"'Yung mga walang lupa pero gustong magtanim din, bumalik sa pagsasaka, alam niyo, malaking bagay [ang] food security… 'Yung mga OFWs na babalik, doon sa mga lupa ng gobyernong nakatiwangwang, ay pwedeng ipagamit para kayo naman ay kumita (Those who have no land but want to farm, you know food security is a big deal…Government lands that are not being used can be given to you so you can earn)," she added.
She said the Department of Information of Communications Technology will also support the upskilling of Filipino workers to stay competitive in the workforce. (PNA)