By Ruth Abbey Gita-Carlos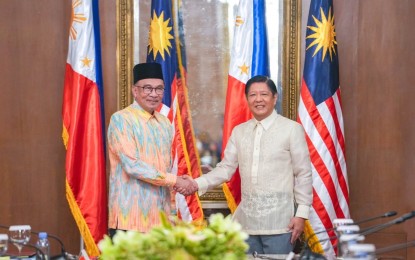 MANILA – President Ferdinand R. Marcos Jr. and Malaysian Prime Minister Anwar Ibrahim have agreed to hold in-depth discussions on the Philippines and Malaysia's territorial dispute over Sabah.
Marcos said the two nation's top foreign diplomats would hold negotiations to address the competing claims on Sabah.
He acknowledged that Malaysia currently serves as "administrator of Sabah."
"Napag-usapan din namin ang issue ng Sabah. 'Yun alam niyo naman, meron tayong claim diyan sa Sabah na sinasabi nating nasa Pilipinas iyan. Ngayon, sila ang administrator ng Sabah kaya't sabi namin, kailangan nating pag-usapan nang masinsinan iyan (We also touched on the issue of Sabah. The Philippines is claiming that Sabah is ours. Now, [Malaysia] is the administrator of Sabah, that's why we said we need to have an in-depth talk)," Marcos said in a vlog uploaded on his official Facebook page Saturday.
"'Yung mga foreign affairs secretary namin ay mag-uusap tungkol diyan kung ano ang puwede pa natin gawin (Our respective foreign affairs secretaries will talk about it to resolve the issue)," he added.
In 2022, the French court ordered Malaysia to pay USD14.9 billion to the heirs of the Sulu Sultanate for breach of an international private lease agreement.
The court granted the demand of compensation after Malaysia stopped paying the annual cession money of RM5,300 (about PHP65,700) to the sultanate heirs following the 2013 armed invasion of militants allegedly sent by Sabah claimant heir Jamalul Kiram III.
Under the Treaty of Paris in 1898, Spain sold the Philippines to the United States. The treaty boundaries allegedly did not include Sabah.
The late senator Miriam Defensor-Santiago, in a speech in 2013, recalled that former President Gloria Macapagal-Arroyo issued "Guidelines on Matters Pertaining to Sabah" in 2008, requiring any official activity related to Sabah to have clearance from the Department of Foreign Affairs.
In 2009, Santiago said Arroyo signed the new law on the archipelagic baselines of the Philippines, which was upheld in 2011 by the Supreme Court and categorically stated that the Philippines retains its claim on Sabah.
In an interview with ABS-CBN News Channel's "Headstart" program, Anwar said Manila and Kuala Lumpur's stance is to take a "cordial" approach in addressing the territorial dispute.
The Sabah dispute, Anwar said, "should not be an issue that easily provoke or cause antagonism."
"These are two great nations. They must walk together. I represent this generation, and I told the President (Marcos) very clearly that… let us work together," Anwar said.
Bangsamoro polls
Marcos said he and Anwar also talked about the assistance Malaysia could provide for the successful conduct of elections in the Bangsamoro Autonomous Region in Muslim Mindanao (BARMM) in 2025.
"Pinagusapan namin kung ano pa ang kailangang gawin upang maghanda para sa darating na halalan para sa mga BARMM official (We discussed the things that we should do for the upcoming election of BARMM officials)," Marcos said.
Malaysia acted as third-party facilitator in the Philippine government's peace process with Muslim separatists in Mindanao, which has contributed to significant progress in stability in the south.
Marcos reiterated that Manila and Kuala Lumpur are committed to elevating their bilateral ties by seeking closer cooperation in various areas, such as security, tourism and trade.
"Sabi namin pareho na talagang dapat iinit ang partnership ng Malaysia at saka ng Pilipinas (We both agreed to further step up the partnership between Malaysia and the Philippines)," he said. (PNA)