By Priam Nepomuceno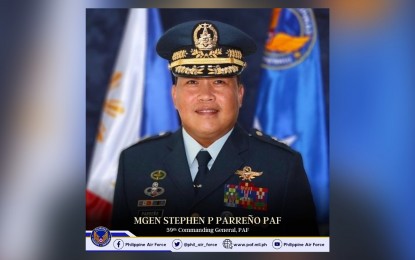 MANILA – Newly-appointed Philippine Air Force (PAF) commander Maj. Gen. Stephen Parreño played a major logistics role in the five-month Battle for Marawi in 2017.
During the five-month battle, Parreño flew Lockheed C-130 "Hercules" cargo planes repeatedly for resupply missions needed to sustain military operations in the conflict.
"Notably, he was greatly involved in the air mobility efforts of the PAF during the Battle of Marawi where he flew as the flight commander of C-130 flights, flying to and from Guam and Arizona to the Philippines, to pick up and transport logistics for the sustainment of the ongoing joint operations," Air Force spokesperson Col. Ma. Consuelo Castillo said in a statement Wednesday.
The Battle of Marawi started when Islamic State-inspired terrorists attacked the city and its environs on May 23, 2017.
The battle ended in mid-October of the same year after the militants' assaults were blunted in the ensuing government offensive.
Before his appointment as PAF chief, Parreño served key positions in the Air Force which included stints as 220th Airlift Wing commander, Air Mobility Command deputy commander, Air Logistics Command deputy commander, Tactical Operations 3 group commander, chief-of-staff air staff and vice commander of the service to name a few.
Parreño is a member of the Philippine Military Academy Class of 1991, in which he was the lone" Starman" (a highly distinguished cadet for both academics and conduct) and graduated as class salutatorian.
He is also a member of PAF Flying School Class 1993 and he graduated No. 3 in this class.
Parreño replaced Lt. Gen. Connor Anthony D. Canlas Sr., a member of PMA Class of 1989, who retired after reaching the mandatory retirement age of 56 on Tuesday.
Canlas served for more than 38 years at the time of his retirement.
"He grew his wings in the PAF as a skillful and competent pilot, officer, and an athlete. His leadership and managerial skills enabled him to handle key leadership and management positions at the tactical, operational, and strategic units and levels of the PAF," Castillo said.
She added that the entire PAF welcomes the new leadership with eagerness and high hopes of flying further towards being a credible and agile force, adaptable to modern warfare, and responsive to national and regional security and development. (PNA)