By Wilnard Bacelonia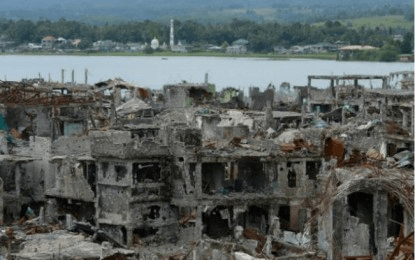 MANILA – The Marawi Compensation Board (MCB) on Monday reported to the Joint Congressional Oversight Committee on the Marawi Siege Victims Compensation Act of 2022 that as of August 31, 2023, a total of 4,762 individuals have filed their claims, amounting to PHP17,456,836,830.
MCB Chairperson Maisara Dandamun-Latiph told the oversight panel that the filing of claims started on July 4 and the number of claimants booked until the end of this year reached 23,489.
"These are people or individuals who claim that they have structure na nasira (that were destroyed) or they have a death claim," Dandamun-Latiph said.
"That 4,762 are claims filed. These are based on verified claims application forms (VCAF) that were filed by the claimants. VCAF means that they have filed a claim under oath," she added.
But, Dandamun-Latiph clarified that the filing of VCAF is just part of the first step of the process.
"Step 2 is the secretary evaluation report composed of lawyers and engineers. Ibig sabihin, dadaan na naman siya sa second layer of verification which is yung (It means the claim still has to undergo a second layer of verification which is the) legal and technical evaluation," she said.
The MCB head said so far, 220 claims have secretary evaluation reports and 120 claims worth PHP395 million have already been processed.
"July 4 only yan. Wala pa po tayong pinag-uusapang (That's for July 4 only. We're still not talking about) July 5, 6, 7, 8, 9, 10, all the way to 31 ng August," she told the lawmakers.
Senator Ronald "Bato" Dela Rosa, who chairs the joint panel, asked the MCB to make sure that the process will not be corrupted.
"As early as now, nakikita na namin dito kung gaano ka-importante yung role ninyo talaga diyan sa Marawi Compensation Board dahil nandiyan kayo sa gitna eh (we can see how important your role there in the Marawi Compensation Board because you are in the middle). You have to make sure that you are operating within the budget and fiscal capability ng ating gobyerno (of our government)," Dela Rosa said.
"At the same time, you have to ensure duly and justly compensated lahat ng victims di ba? Ambigat ng papel niyo (all of the victims, right? Your role is very important). So, good luck. We are here to support you," he added.
The MCB, Dandamun-Latiph told the panel, targets to accommodate 200 claims a day, 150 recommendations a week, and 600 decisions a month.
Based on the data of the Task Force Bangon Marawi, there are more than 17,000 households within the 24-barangay most affected area of the city excluding businesses and other establishments.
Under Republic Act 11696, the MCB is tasked with facilitating the tax-free payment of reparations to "qualified claimants" who lost residential and commercial properties in the Marawi siege.
The law also grants private property owners compensation based on the sum of the current market value of the land and the replacement cost of structures and improvements in a span of five years. (PNA)