By Ruth Abbey Gita-Carlos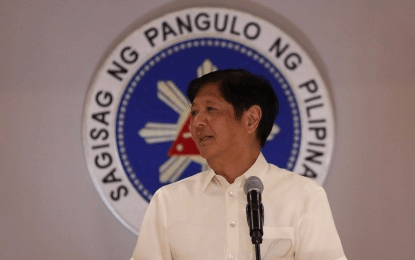 MANILA – Malaysian investors have expressed interest in the Maharlika Investment Fund (MIF), the Philippines' first-ever sovereign wealth fund, President Ferdinand R. Marcos Jr. said Thursday.
He, however, noted that Malaysian investors are "the most careful of all" and want to know the specifics of the business before making any investment.
"Yes, lahat. Lahat naman nag-express ng interest because negosyo 'yan (all of them have expressed interest because that is business)," Marcos, who is on his third and last day in Malaysia for a state visit, told reporters when asked if Malaysian businessmen are interested to invest in the MIF.
The MIF is designed to catalyze economic development by mobilizing government financial assets.
"You have to be specific. Once we get to that point, then we can talk about the amounts that are going to be invested both by the fund and, of course, by our private sector partners," he said.
He assured that the MIF would not experience the same problem encountered by the 1 Malaysian Development Berhad (1MDB).
He was referring to Malaysia's state investment fund that was set up in 2009 but was mired in controversy because of missing funds.
"As long as you can assure them that what their poor experience was here, the terrible things that happened here, hindi mangyayari sa fund natin (it would not happen to our fund)," Marcos said.
The MIF will be "run professionally and without undue political influence" and financial managers will make the daily decisions on investments, he added.

100K new job opportunities
Meanwhile, Marcos said he is expecting the creation of more than 100,000 jobs for Filipinos after his state visit reaped USD285 million in investment pledges.
On his last day in Malaysia, Marcos held a meeting with the Malaysian business community in Kuala Lumpur.
"We don't have a number as yet because we – kakapirma lang (the agreements have been signed just now). We will have to make the assessments. But I'm talking at the very least tens of thousands if not over, more than 100,000 jobs here," he said.
Marcos said Malaysian business leaders have expressed their intent to invest in the food processing industry, multi-service digital platforms, aviation and aviation maintenance support services in the Philippines.
They are also keen on investing in the logistics, manufacturing, infrastructure, water and wastewater treatment facilities in the country, he said.
The investment commitments, he said, would open new job opportunities, especially during the construction and operational phases of the planned projects.
"The downstream, upstream and downstream jobs will also increase and will maintain that job employment rate. So, when we start talking, when we start getting down to the details of the project, we can give you a better number in terms of jobs created," Marcos said. (PNA)