By Azer Parrocha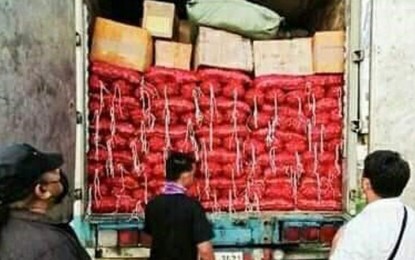 MANILA – President Ferdinand R. Marcos Jr. on Thursday said "some legal issues" are preventing the government from selling seized smuggled onions at lower prices.
"We're trying to find ways to bring the smuggled onions that have been caught na ilagay na sa market para mabawasan ang (and sell them in the market to reduce the) supply problem but there are some legal issues to doing that immediately. So we're still working on that," Marcos said in a video from the Office of the Press Secretary (OPS).
Marcos, however, did not give further details.
Early this month, the Department of Agriculture (DA) came up with the idea to sell seized smuggled onions in Kadiwa sites should they be found in compliance with phytosanitary import requirements.
To date, there are nearly 400 Kadiwa stores nationwide.
Marcos also assured the Department of Trade and Industry (DTI) will continue monitoring the prices of red onions in the market to ensure they follow the suggested retail price (SRP) of PHP250 per kilo.
The SRP on red onions will be effective on Friday (Dec. 30).
"We stick firmly to the recommended price and the DTI will continue to monitor…We will keep the prices down by monitoring what's happening in our palengke (wet markets)," he said.
The Kadiwa ng Pasko caravan is an initiative of the Office of the President led by the DA to promote affordable and high-quality products.
The program gives consumers the opportunity to buy affordable goods and provides a market to local agricultural producers as well as micro, small and medium enterprises.
Calamity-hit areas
Meanwhile, Marcos said he is eyeing to make a visit to areas affected by flooding caused by the shear line and amihan (northeast monsoon) after his three-day state visit to China from Jan. 3 to 5, 2023.
"Unfortunately, tuloy-tuloy pa rin yung ulan e (it keeps on raining) so we have to keep watching the other areas also. But yes, probably, if there's a reason to go I think that so far our social services have done their job but it always helps to go and see for yourself so I'll try to make time to go," he said.
As of Thursday, data from the National Disaster Risk Reduction and Management Council (NDRRMC) showed that at least 32 persons have died from the shear line-induced heavy rains that inundated some parts of the country.
Seven of the 32 have been confirmed so far — three each in Regions 8 (Eastern Visayas) and 9 (Zamboanga Peninsula) and one in Caraga.
Undergoing validation are reports of another 25 deaths — 18 in Region 10 (Northern Mindanao), six in Region 5 (Bicol) and one for Region 9.
Most of the casualties were caused by drowning from flash floods after two days of heavy rains spoiled Christmas celebrations and prompted tens of thousands of others to take refuge in evacuation centers or relatives' houses. (PNA)