By Filane Mikee Cervantes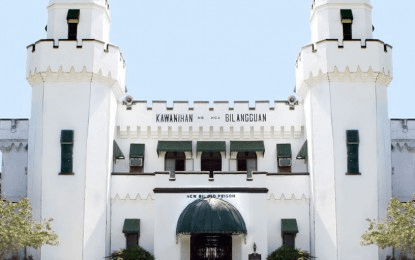 MANILA – A party-list lawmaker on Monday urged Congress to prioritize the passage of reforms in the country's prison and correctional systems.
In a privilege speech during the plenary session, Bicol Saro party-list Rep. Brian Raymund Yamsuan highlighted the need to introduce prison reforms to ensure the effective rehabilitation and transformation of inmates.
Yamsuan said one of the problems plaguing the country's correctional system is prison overcrowding, noting that the congestion rate in Philippine jails is 358 percent this year according to the Bureau of Jail Management and Penology.
"Our nation's correctional facilities, which are meant to be places for rehabilitation and transformation have instead become breeding grounds for despair and recidivism," Yamsuan said.
"I ask this Congress to give primacy to measures that extend a hand of reform and redemption to our countrymen who deserve a second chance," he added.
Yamsuan said the state of the country's prison and jail system has "spawned a multitude of problems and corrupt practices," thus compelling authorities to adopt unconventional measures such as permitting persons deprived of liberty (PDLs) to place online food orders, or allowing relatives to transfer money to them through e-wallets.
He also cited that the lack of adequate space in city jails has forced inmates to adopt unorthodox sleeping arrangements, such as rotating shifts, sleeping on the steps of staircases or even making improvised hammocks.
He said malnutrition is also a concerning issue, with an allocated daily budget for each inmate meal at PHP70, while their daily medical allowance is at PHP15.
"It is easy to blame prison officials for the continuing deterioration of our correctional institutions but they themselves are fighting hard to survive a fragmented system riddled with red tape, a system that lacks manpower and resources to effectively manage PDLs and provide them with humane living conditions," he said.
He said the prison reforms would be aligned with President Ferdinand R. Marcos Jr.'s "Bagong Pilipinas" brand of governance.
"Our Bagong Pilipinas should ensure that no one is left behind including our persons deprived of liberty. We should give them a genuine chance to rebuild their lives by supporting measures that will institute reforms in our correctional system," he said.
"We show through concrete action the strong commitment of the House of the People to the very principles of justice, compassion, and the belief in the potential of the individual to transform his life for the better," he added.
Yamsuan earlier proposed integrating the government's corrections, jail and probation management systems under a single department to address the longstanding issues of congestion, abuse and corruption in the country's penal facilities.
He said creating a line agency like the Department of Corrections will enable the government to introduce long-due reforms in its fragmented corrections and jail management systems.
He stressed the need to work on improving the living conditions and rehabilitation programs of PDLs, noting that the proposed department will be able to focus on safeguarding the rights of PDLs from the time of their detention up to their rehabilitation and reintegration into society. (PNA)