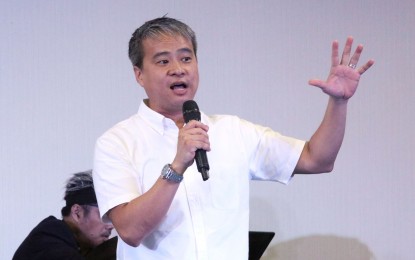 MANILA – Senate Majority Leader Joel Villanueva has filed a resolution urging the executive department to ratify the International Labor Organization (ILO) Convention No. 190 on the elimination of violence and harassment in the workplace.
In filing Senate Resolution No 4566, Villanueva said this will ensure protection to overseas Filipino workers (OFWs).
The ILO Convention No. 190 or the Violence and Harassment Convention seeks to protect workers and other persons in the world from violence and harassment occurring in the course of, linked with, or arising out of work with an accompanying recommendation that provides guidance in implementing the Convention.
Villanueva said the Philippines' ratification of the ILO Convention will provide the "impetus" to reflect on the principles of the labor standards and could provide the country the option to elevate the killings of OFWs to the ILO Supervisory Bodies.
"The brutal killing of Jullebee Ranara happened even amid an existing Memorandum of Understanding between the Philippines and Kuwait on the kafala system, which lays down the obligations in the treatment and protection of foreign workers," Villanueva said.
As of 2022, there were 24,549 OFW welfare cases in Kuwait of which, 8,755 are contract violation cases, 823 are physical maltreatment cases, 99 are sexual abuse cases and 26 are rape cases.
The Department of Migrant Workers (DMW) data showed a significant increase in welfare cases from 2016 which was at 6,536.
"Let's give our OFWs reassurance that their government is doing their best to make sure that they are protected and that their rights are not violated saying This is living up to our obligations to our 'heroes' who have braved foreign worlds and transformed the economic landscape of our country for want of better lives for their families," Villanueva said in a statement.
""This is living up to our obligations to our 'heroes' who have braved foreign worlds and transformed the economic landscape of our country for want of better lives for their families," he added. (With a report from Leonel Abasola/PNA)