By Joyce Ann L. Rocamora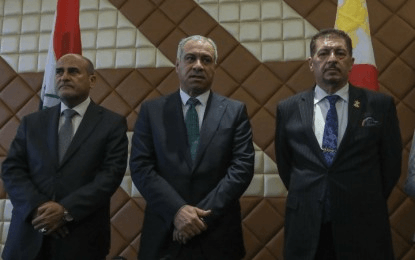 MANILA – The Iraqi government on Wednesday appealed to the Philippines to reconsider and lift the deployment ban on Filipino workers as it cited the improving security situation in the country.
A 19-member delegation from Baghdad is in Manila for the 8th Iraq-Philippines Joint Committee Meeting (JCM), the first to be held after 10 years.
On the sidelines of the meeting, Iraq's Deputy Minister of Health and head of delegation Khamees Hussein Ali said Baghdad hopes to hire more Filipino workers, specifically nurses.
He said the Iraqi side is currently negotiating the removal of "red lines" between the two states, referring to the current deployment ban and alert level status in the country.
"We are trying to move all the things that affect Filipino workers to come to Iraq because now in Iraq the security is very good, everything is good now so it is okay to bring Filipino workers into Iraq," he said.
In the same interview, Iraq Ministry of Labour and Social Affairs Advisor Adnan Kareem Salman said the Iraqi side has invited Filipino officials to Iraq and assess the current situation there.
"The Ministry of Labor wants to remove the ban on the Filipino workers in Iraq. Filipino workers don't make any problem and they are very liked by our country," he said.
At present, Iraq is under Alert Level 3 where a voluntary repatriation advisory and a deployment ban are in effect.
Iraq is currently proposing the renewal of the 1982 memorandum of agreement on the mobilization of workers, which allows the deployment of Filipino and Iraqi workers to Iraq and the Philippines.
Salman said the Iraqi side is willing to make necessary changes in the deal or craft a new one should the Philippine side propose.
Sought for comment, Foreign Affairs Undersecretary Eduardo Jose De Vega said Manila has yet to make a decision and that the Department of Foreign Affairs (DFA) defers to the Department of Migrant Workers (DMW).
Citing information from the DFA Office of Middle East and African Affairs, he said: "The DMW just said that there must be a review of the situation and probably visit to Iraq before there could be lifting of the deployment ban."
"Iraq wants to hire Filipino nurses for their government hospitals in connection with the improvement program of their health care system," he said.
"Perhaps Iraq can invite DMW to visit a typical Iraqi government hospital to see for themselves, better even if they can interview a Filipino nurse already working there," he added.
On the lowering of alert level, he said the DFA is also waiting for "further feedback" from the Philippine Embassy in Baghdad. (PNA)