By Ferdinand Patinio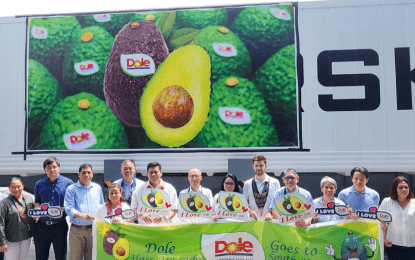 MANILA – An initial shipment of 3,040 boxes of fresh "Hass" avocados from the Philippines with an estimated value of USD48,433 (PHP2.7 million) set sail to South Korea on Saturday.
According to the Department of Agriculture-Bureau of Plant Industry (DA-BPI), the first shipment left the KTC Port Tibungco in Davao City and is expected to arrive in Pyongtaek Port, South Korea on Oct. 8, 2023.
DA-BPI Assistant Director for Regulatory Services Ruel Gesmundo, DA-Region 11 (Davao Region) Director Abel James Moteagudo, Dole Philippines Senior Vice President and Stanfilco Division General Manager Tetsuya Kitae, led the ceremonial send-off.
The Philippines, through the Bureau of Plant Industry (BPI), on Sept. 25, 2009 officially expressed its intent to export fresh Hass avocado fruits to Korea, responding to the request of Dole Philippines.
The Department of Animal and Plant Quarantine Agency (APQA) of the Republic of Korea and DA-BPI reached a historic agreement on June 19, 2023, and came into effect on Sept. 8, 2023.
The significant market access achievement was made possible through the diligent efforts of the DA-BPI, headed by Director Gerald Glenn Panganiban, and the Philippine Agriculture Office in Seoul.
Panganiban played an instrumental role in expediting the market access request by incorporating this agenda during the International Plant Protection Convention (IPPC), attended by several member countries, including the top management of APQA.
This marks the beginning of a fruitful trade relationship between the two nations, as the people of South Korea can finally taste the creamy and nutrient-rich Hass avocados from the Philippines.
President Ferdinand R. Marcos Jr. remains committed to the acceleration of agricultural development by opening the country's doors to Philippine fruit exports.
Under his leadership, the Philippines is continuously making progress in creating opportunities in the global market and solidifying its capability to trade top-quality agricultural products. (PNA)