By Priam Nepomuceno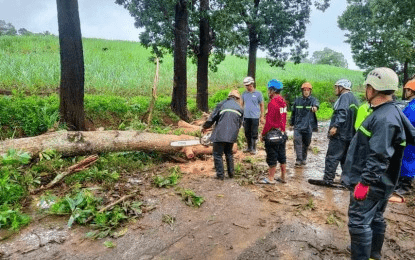 MANILA – Families affected by the combined effects of the southwest monsoon or "habagat" and Super Typhoon Egay have reached 4,554 in five regions in the country, the National Disaster Risk Reduction and Management Council (NDRRMC) reported Tuesday.
This is significantly higher than the 3,300 families reported on Monday, the agency said in its bulletin.
These 4,554 families are equivalent to 16,888 persons residing in 28 barangays in the Ilocos Region, Calabarzon, Bicol, Western Visayas, and Northern Mindanao.
As of posting, three evacuation centers were sheltering about 16 families consisting of about 38 individuals, while 12 families or 62 persons were receiving aid outside the centers.
According to the Office of Civil Defense, the affected families are a combination of those displaced and those whose livelihood have been affected but do not need to be evacuated.
In the same report, the NDRRMC said they were still validating a report that one person was injured in Western Visayas.
No fatalities were reported as of this time while eight houses were reported damaged in Western Visayas and Northern Mindanao.
Mimaropa cops on alert
Meanwhile, Police Regional Office 4-B (Mimaropa) chief Brig. Gen. Joel Doria, has placed all police units and stations in the region on alert to ensure the safety of the public amid the possible effects of the super typhoon.
"We are working in close collaboration with local government units and relevant agencies to synchronize efforts and respond effectively to the potential impact of Typhoon Egay," Doria said in a statement.
He also emphasized the activation of disaster response teams, strategically positioning trained personnel and essential resources in areas prone to the typhoon's impact.
"We have proactively implemented measures to ensure the readiness of our teams," Doria said.
To assist the public in adequately preparing for the potential impact, PRO 4-B urged the public to follow these safety precautions:
– Enhance home security: People are advised to fortify their homes by meticulously closing all windows and doors and by reinforcing the entry points with shutters or plywood.
– Assemble an emergency kit: The kit should include such vital provisions as potable water, non-perishable food items, first aid supplies, flashlights, and batteries, as well as important personal documents.
– Stay Informed: People are advised to keep abreast of the latest meteorological updates and heed the advice disseminated by local authorities. Accessing information issued by reliable local news outlets and radio stations will provide real-time guidance.
Doria urged the public to remain vigilant, closely monitor weather updates, and adhere to the guidance provided by local authorities to safeguard their well-being and that of their loved ones amid the weather disturbance.
"The public can be assured, that we are equipped and prepared to respond swiftly to any emergency situation that may arise as a result of Typhoon Egay," he said. (with Lloyd Caliwan/PNA)