By Ferdinand Patinio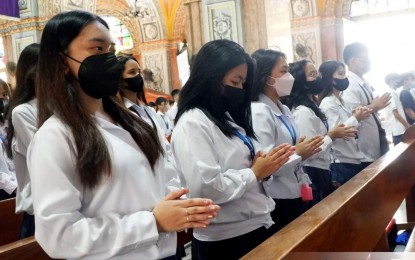 MANILA – A group of Catholic educational institutions has appealed to lawmakers to reconsider the measure banning the "no permit, no exam" policy in schools.
Jose Allan Arellano, executive director of the Catholic Educational Association in the Philippines (CEAP), said private schools rely only on tuition fees to continue operations, which include paying teachers, acquiring school equipment, and constructing school buildings.
"Once again we are appealing to the government to understand what we are doing in Catholic education and private education, we require payments from parents," he said in an interview over Church-run Radio Veritas on Wednesday.
Arellano said they already wrote to lawmakers to express their opposition to the measure.
The CEAP's statement came after the Senate on Monday passed Senate Bill 1359, which bans the "no permit, no exam" policy.
Under the proposed "No Permit, No Exam Prohibition Act", a student will be allowed to take exams despite not being able to pay tuition and other school fees.
Arellano also reported that during the height of the pandemic, about 800 private schools closed due to the lack of enrolled students.
The association consists of 1,500 Catholic schools nationwide, which are among more than 12,000 private schools. (PNA)