By Ruth Abbey Gita-Carlos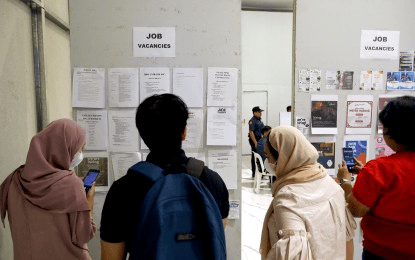 MANILA — The Marcos administration is ramping up its efforts in opening more employment opportunities and providing better quality of jobs to help Filipinos cope with the rising prices of basic commodities, the National Economic and Development Authority (NEDA) said Tuesday.
In a Palace press briefing, NEDA Undersecretary Rosemarie Edillon said an "all-of-government" approach is being undertaken to "increase the employability" and improve the skills of the Filipino workers.
"Prices [of goods] are still rising but not as much as it increased in September. Now, actually, dahil sa patuloy tayong lumalaki (because we keep growing), incomes are also rising, demand is increasing, nagkakaroon talaga ng pagtaas sa presyo (there is actually a price increase)," Edillon said.
"This is also about attracting the right kind of investments para mapababa natin iyong cost of doing business, para 'pag iyong mga (so that we can lower the cost of doing business, so that when the) goods and services that are being produced, pwede din nila maibaba iyong cost. So, ang daming kailangan na coordinated efforts pa rin dito (they can also lower the cost. So, a lot of coordinated efforts are still needed here)," she added.
Edillon issued the statement even after headline inflation eased to 4.9 percent in October this year from 6.1 percent in September, based on the Philippine Statistics Authority (PSA) report released earlier Tuesday.
She said the government is currently implementing development projects, such as the "Build Better More" infrastructure program, to generate many jobs in the country.
Job generation, Edillon said, would make Filipinos less dependent on the cash assistance that is being distributed by the government as part of the "temporary" measures to help those who are badly affected by the rising inflation.
"Marami rin tayong mga pa-training (We also have a lot of training) programs out there. So, there's a lot of other programs that are being given to them to make sure that they do not have to rely on this assistance only)," Edillon said.
"Actually, bumababa ang ating unemployment rate, so ibig sabihin, dumadami rin talaga iyong nagkakaroon ng trabaho. So ang interest na lang natin ngayon is mapadami pa 'to (Actually, our unemployment rate is going down, so that means that the number of people getting jobs is actually increasing. So our only interest now is to increase) and then make it, you know, better quality jobs. 'Yun ang (That's the) intent ng Marcos administration."
As of end-August, the number of unemployed Filipinos was estimated at 2.21 million. The figure is lower than the 2.68 million jobless Filipinos recorded in August 2022 and 2.27 million in July 2023.
The PSA is expected to release Wednesday the official September labor force data.
'Immediate respite'
Speaker Ferdinand Martin Romualdez said lower inflation not only eases the cost of living but also enhances the purchasing power of Filipinos, enabling them to save and invest in vital areas like education and healthcare, thus contributing to personal development.
"The House of Representatives recognizes the significance of continuing this downward inflationary trend. The easing of prices, especially for essentials like vegetables, offers immediate respite to the average Filipino by lowering the cost of living and improving their financial capability," he said on Tuesday.
Romualdez said the House is committed to supporting the government in strengthening the country's economy and lowering the cost of living among the Filipinos by enhancing the people's purchasing power.
He said the decline carries tangible benefits in daily life as it eases financial pressure on families nationwide and makes essential goods more affordable and accessible.
Amid the global economic headwinds, Romualdez said the House is dedicated to formulating policies that support economic resilience, stimulate investment and strengthen agricultural output in support of Marcos' pro-poor programs, all of which are crucial for shielding the Philippines from external economic challenges.
"Fiscal responsibility, including reducing deficits and debt management, is essential to maintaining low inflation and is a priority for the House," he said.
In addition to these measures, the Speaker said the House was actively focused on strengthening supply chain infrastructure to mitigate the impact of global supply disruptions on domestic prices.
"Consumer protection is also at the forefront, with updates to legislation aimed at preventing price exploitation and keeping basic necessities within reach for all Filipinos," he added. "While the central bank primarily manages monetary policy, the House endeavors to pass laws that reinforce the bank's efforts to meet inflation targets." (with reports from Zaldy De Layola/PNA)