By Azer Parrocha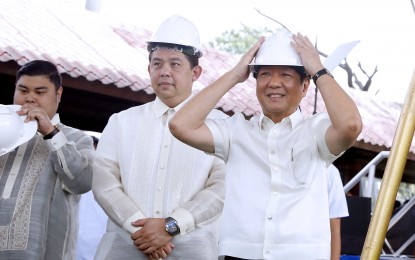 MANILA – The administration of President Ferdinand R. Marcos Jr. has begun crafting a system that would fund its housing program, particularly for uniformed personnel.
In a news release on Tuesday, the Presidential Communications Office (PCO) said Marcos made this announcement after a meeting with Philippine National Police (PNP) chief, Gen. Rodolfo Azurin Jr.; Armed Forces of the Philippines (AFP) chief of staff, Gen. Andres Centino; Department of Human Settlements and Urban Development (DHSUD) Secretary Jose Acuzar and Cavite Governor Jonvic Remulla at Malacañan Palace.
"We are starting now to put together the system wherein they can be included in the financing system not only with public banks but also with private banks for this," he said.
Marcos, the commander-in-chief, said there is available land for the program but the government has to work on a scheme to get others onboard.
Acuzar earlier said the planned financial scheme aims to "mobilize more private partners, such as developers, banks and other financial institutions to invest in housing production."
The President likewise assured that his administration is determined to provide housing for the country's uniformed personnel.
Marcos has been leading site inspections and launches of different housing projects in Metro Manila and in the provinces, most notably under the administration's flagship program billed as the "Pambansang Pabahay para sa Pilipino": Zero ISF (Informal Settler Family) 2028 Program.
The program aims to address the housing backlog in the country pegged at more than 6.5 million units.
To date, a memorandum of agreement was signed between the DHSUD and government financial institutions to fund the department's housing projects.
He earlier tasked the DHSUD to build 1 million housing units every year for the next six years, with PHP36 billion annual interest support from the national government.
In October last year, Marcos called on government financial institutions and private banks to assist government efforts to address the country's housing backlog.
He said giving incentives to private entities would further encourage them to take part in the building and financing aspects to support the housing program. (PNA)