By Ferdinand Patinio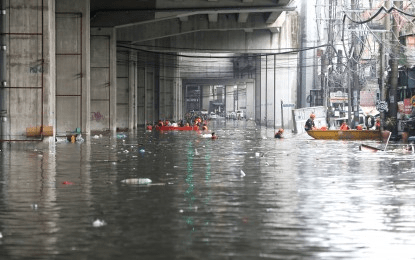 MANILA – The estimated damage to infrastructure in four regions has reached PHP442.34 million, caused by the enhanced southwest monsoon or "habagat" and the effects of Typhoon Goring.
The Department of Public Works and Highways (DPWH) said in a news release Saturday that of the total damage in the Cordillera, Ilocos, Cagayan Valley and Mimaropa (Occidental Mindoro, Oriental Mindoro, Marinduque, Romblon and Palawan) regions, PHP146.28 million are damage to roads, PHP14.68 million to bridges and PHP281.38 million to flood-control structures.
The DPWH Bureau of Maintenance said as of 10 a.m. Saturday, four roads in the Cordillera region and three roads in the Ilocos region remain impassable due to pavement sinking, roadcut, landslides and scoured bridge abutment.
A total of 26 roads reopened but the DPWH is clearing the following sections that are closed to all types of vehicles: Abra-Ilocos Norte Road, San Gregorio, La Paz, Abra (due to pavement sinking); Kennon Road, Camp One, Tuba, Benguet (as a precautionary measure); Claveria-Calanasan-Kabugao Road, sections in Barangay Namaltugan and Barangay Ninoy, Calanasan, Apayao (due to roadcut and collapsed pavement); Dantay Sagada Road, Barangay Antadao, Sagada, Mt. Province (due to roadcut and collapsed pavement); Ilocos Norte-Apayao Road, Barangay Maananteng, Solsona, Ilocos Norte (due to landslides); Roxas Bridge, Vigan-San Vicente Road in Ilocos Sur (due to scoured bridge abutment); and Pangasinan-Nueva Vizcaya Road, Barangay Malico, San Nicolas, Pangasinan (due to soil collapse).
Only one lane is passable to light vehicles at the Vigan Bridge 1 and 2 along Bantay-Vigan Road in Barangay 1, Vigan City, Ilocos Sur (due to damaged abutment protection and bridge approach); and the Nasugbu-Lian-Calatagan Road, Barangay Puting Kahoy, Lian, Batangas (due to scoured shoulder and roadcut/collapsed pavement).
The southwest monsoon, currently enhanced by Typhoon Hanna and two other tropical cyclones (Saola and Kirogi) outside the Philippine Area of Responsibility (PAR), will bring occasional to monsoon rains over the western portion of Luzon in the next three days.
The center of the eye of Hanna was estimated at 455 km. east-northeast of Itbayat, Batanes as of 11 a.m.
The province is under Tropical Cyclone Wind Signal No. 1 as of posting time.
Goring reached super typhoon category and left the PAR on Aug. 30. (Ferdinand G. Patinio/PNA)