By Wilnard Bacelonia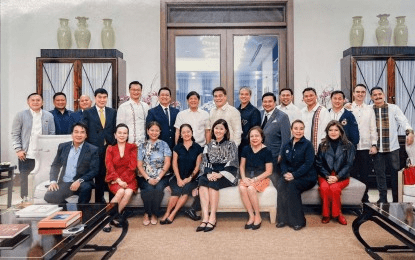 MANILA – President Ferdinand R. Marcos Jr. only discussed issues on "flooding and agriculture" with the senators who came for a private dinner in Malacañang on Wednesday evening, Senate President Juan Miguel Zubiri said on Thursday.
In an interview aired over CNN, Zubiri bared that they did not talk about the issues on the West Philippine Sea (WPS) considering that Marcos just came from a meeting with former President Rodrigo Duterte, who earlier met with Chinese President Xi Jinping.
Describing their meeting as "very casual, cordial," he said Marcos and the senators touched very quickly on the issue of Duterte, but the topic was immediately changed.
"We change topics after that into agriculture and flooding that's going on all over Luzon, particularly Northern Luzon, his province Ilocos and, of course, what's happening in Bulacan and Pampanga," Zubiri sad.
He added that Marcos was very concerned and focused on the plight of the flood-affected families, as well as the farmers whose crops were damaged by the recent typhoons.
"He was very concerned last night and during the course of the dinner, siyempre tinitignan nya yung cellphone niya, nagtitingin po siya ng mga updates kung ano ang nangyayari (he was constantly looking at his cellphone and looking for updates). And he was, every time he looked at his phone and he was like sighing, sigh of sadness, and 'we have to send things here to this province, or to send more relief goods to this other province'" Zubiri related.
Although the West Philippine Sea issue was not discussed, Zubiri said Marcos is "familiar and knows very well" the stand of the Senate, having passed Senate Resolution No. 718, which condemns the continued harassment of Filipino fishermen and the persistent incursions in the West Philippine Sea (WPS) by the Chinese Coast Guard and militia vessels.
"During the conversation we just mentioned basically that we had this stand with the Senate.. we didn't want to impose or discuss anything serious at the time because this was really for a casual and cordial dinner," he said.
"But what is important, I think we should focus on the resolution. I think it is important to take note that the Senate went together, united together," Zubiri said.
SRN 718 was unanimously adopted by the Senate on Tuesday.
Sponsored by Zubiri and Senate Deputy Minority Leader Risa Hontiveros, the resolution urges the Philippine government to take appropriate action in asserting and securing the country's sovereign rights over its Exclusive Economic Zone (EEZ) and continental shelf.
The measure, which was co-authored by all senators, also calls on China to stop its illegal activities in accordance with the United Nations Convention on the Law of the Sea (UNCLOS) and the 2016 Ruling of the Permanent Court of Arbitration. (PNA)