By Anna Leah Gonzales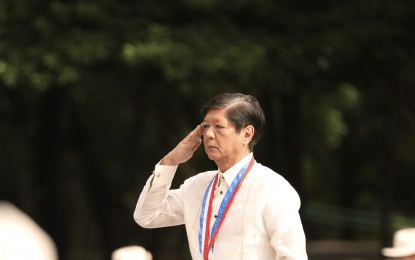 MANILA – President Ferdinand R. Marcos Jr. on Monday called on Filipinos to become heroes of their families and communities to be able to contribute to nation-building.
"As we recognize our forebears whose uncelebrated legacies our society is built on, let us also realize our own power to become heroes for our families and communities. May this consciousness then ignite us to be dedicated to creating a new Philippines that is strong, prosperous, resilient, and secure for present and future generations," the President said in his message in observance of National Heroes Day.
He also urged Filipinos to honor heroes and heroines, as well as unknown Filipinos who were instrumental in shaping the nation.
"In the multitude of activities and responsibilities that fill our daily lives, we tend to forget the many heroes and heroines responsible for all the liberties we enjoy today," Marcos said.
"While we dedicate time each year to commemorate the notable names that fill our history books, it is just as crucial to remember the lives and deeds of the many lesser-known and unnamed Filipinos who played pivotal roles in shaping our nation," he added.
Marcos also said that every Filipino has the capacity to be a hero.
"From the defiance of our ancestors against the first invading forces to the diligence that our soldiers and statesmen held to see the last of them off -our unsung champions prove that heroism is not limited to the Herculean; it also includes the honest, earnest, and compassionate living that we do every day," Marcos said.
He also urged Filipinos across the globe to celebrate the occasion with a sense of pride.
"I enjoin every Filipino across the globe to celebrate with a renewed understanding and sense of pride for the fortitude that is naturally abundant in our hearts as a people," he added.
The commemoration of National Heroes Day began during the American Colonial Period, which was first enacted into law on Oct. 28, 1931, through Act No. 3827, declaring the last Sunday of August of every year an official national holiday.
Before the Second World War in the Pacific, the last National Heroes Day commemoration happened on Nov. 30, 1941.
On March 20, 1942, former president Jose P. Laurel signed Executive Order 20, which set the National Heroes Day on Nov. 30. After the war, former president Elpidio Quirino reverted the date of the commemoration back to the last Sunday of August.
Former president Gloria Macapagal-Arroyo, however, signed into law Republic Act 9492, placing the National Heroes Day observance on the last Monday of August as part of her "Holiday Economics" program in a bid to reduce work disruptions by moving holidays to the nearest Monday or Friday of the week. (PNA)