By Joyce Ann L. Rocamora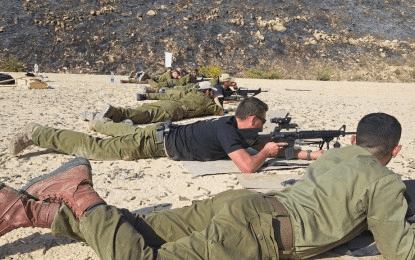 MANILA – The Philippine Embassy in Israel confirmed that the two Filipinos killed following the Hamas attack on Saturday are among the six nationals earlier reported missing.
One of the fatalities was a newly married 33-year-old Filipino worker from Pangasinan while the second one was a 42-year-old male from Pampanga.
"Yes, they were part of the six. They were found probably two days after the attack," Embassy Consul General Anthony Mandap said in a text message on Wednesday.
Another Filipino was reported dead but this will still be subject to confirmation by DNA evidence, the embassy said.
The update brings to three the number of Filipinos still missing.
In a Palace briefing, Labor Attaché Rudy Gabasan said one of the two confirmed deaths was shot when the Hamas militants forced their way into their household in their kibbutz community in Israel near the Gaza border.
The circumstances of the second Filipino's death, on the other hand, are still unclear.
Philippine Ambassador to Israel Pedro Laylo Jr. said he already spoke with the wife of one of the fatalities on Tuesday to inform her of her husband's demise.
"I promised her that the Embassy will provide all the necessary assistance she needs, the President will also speak to her today," he said, adding that the embassy is working with authorities to retrieve the bodies.
Laylo assured that they continue to work with Israeli authorities to find the "three Filipinos who are still missing".
Meanwhile, the Israeli Embassy in Manila expressed sympathies to the kin of the two Filipinos.
"We offer prayers as well to those who are still missing. We strongly condemn the acts of terrorism by Hamas towards the innocent Israeli citizens and other nationalities in Israel," it said. "Israel will continue to defend itself against Hamas."
Alert level 2
The Department of Foreign Affairs (DFA) on Wednesday also raised Alert Level 2 in Israel, effectively "restricting" deployment of Filipinos in the country.
Alert Level 2 is issued when there are real threats to the life, security and property of Filipinos arising from internal disturbance in or external threat to the host country.
"We're not going to deploy new workers which is actually status quo anyway," DFA Undersecretary Eduardo Jose de Vega said in the same briefing, explaining that there are still negotiations for deployment of Filipino caregivers with relevant Israeli agencies.
De Vega said the embassy would not recommend mandatory repatriation as the situation in Israel "has turned to certain sense of normalcy".
He said the killings happened on the initial days of the conflict when Hamas launched a surprise assault in south Israel.
"The embassy has not recommended it because mandatory repatriation or alert level 4 is called when the country has broke(n) down and rule of law and everything about peace and order has broken down — that is not the case with the State of Israel," he said.
"We still urge precaution; the embassy already issued the travel advisory – we repeat that we do not recommend visits to Israel at the present time," he added. (PNA)